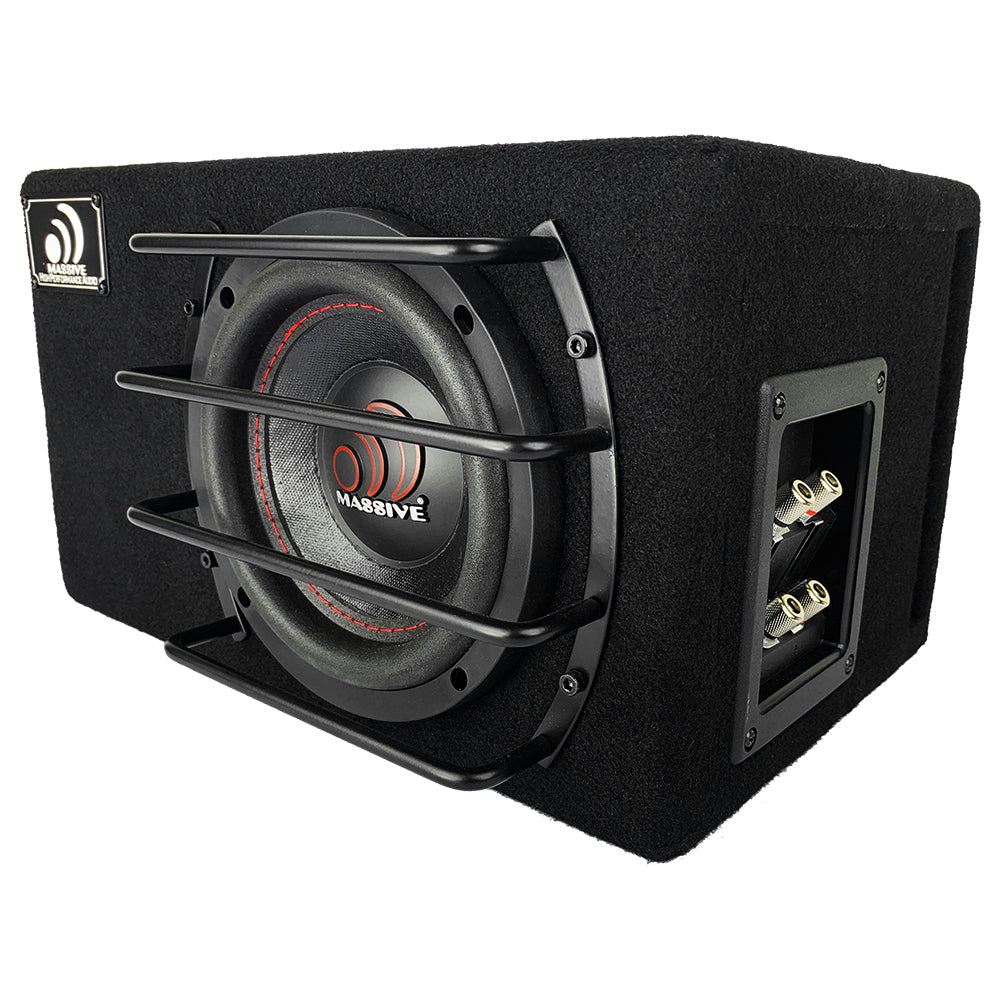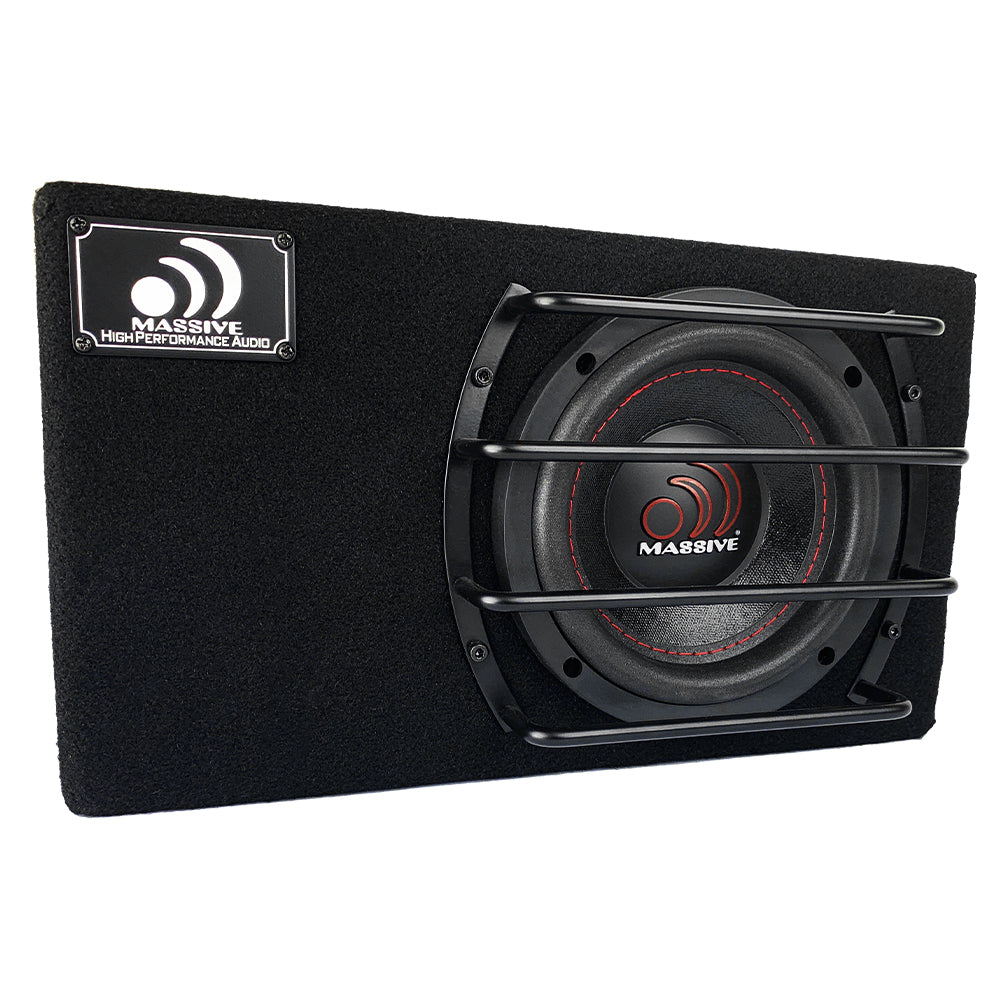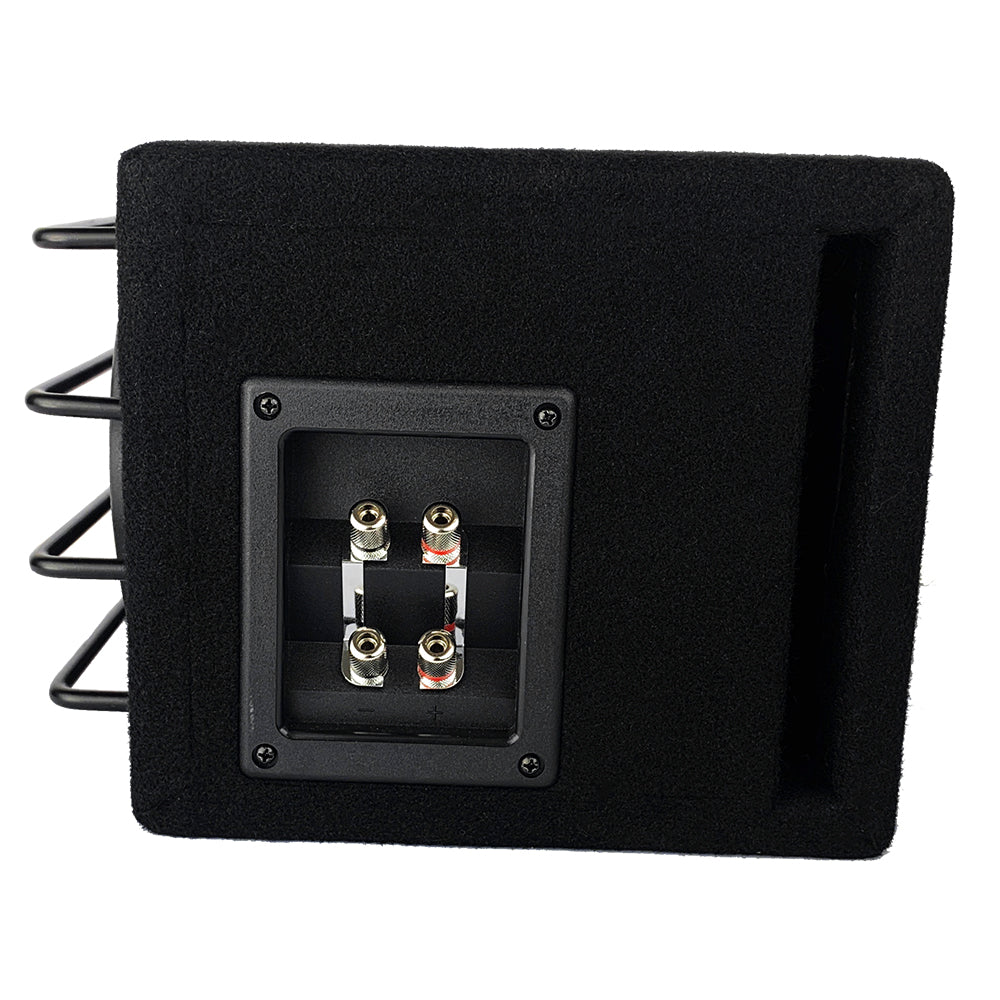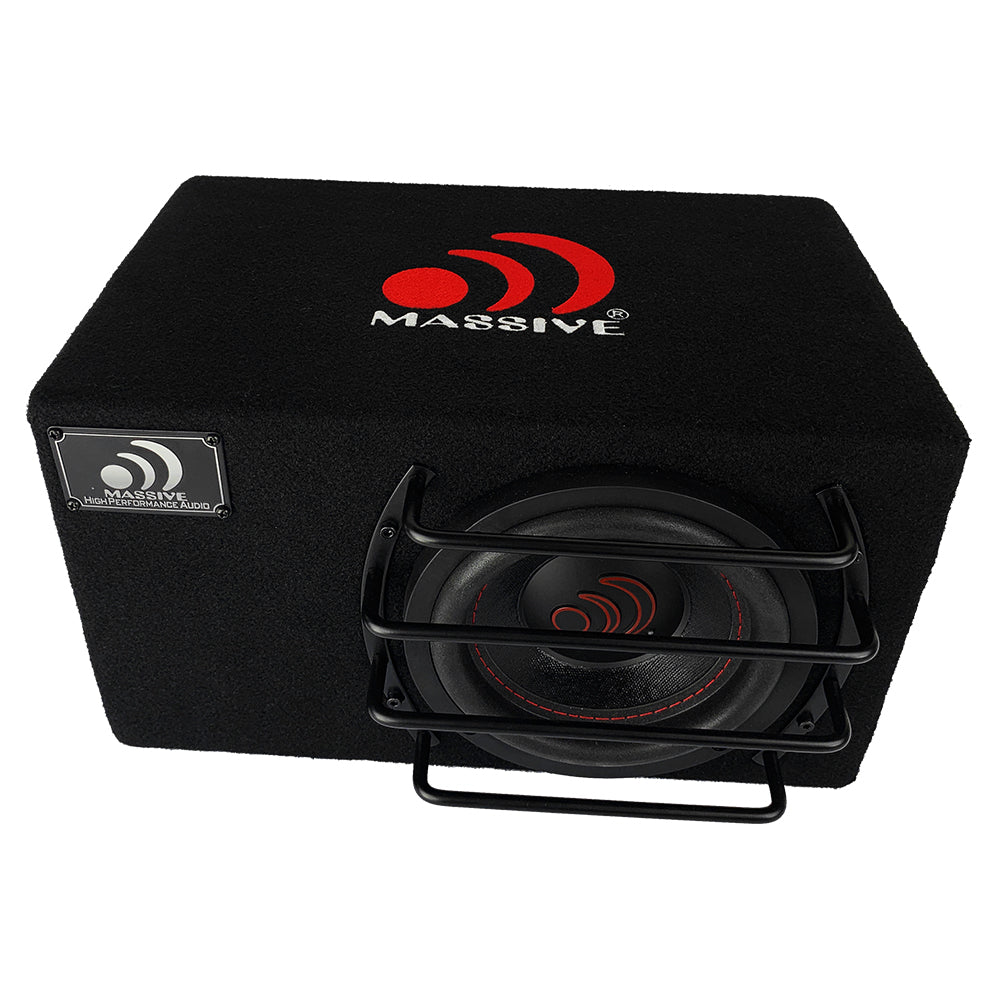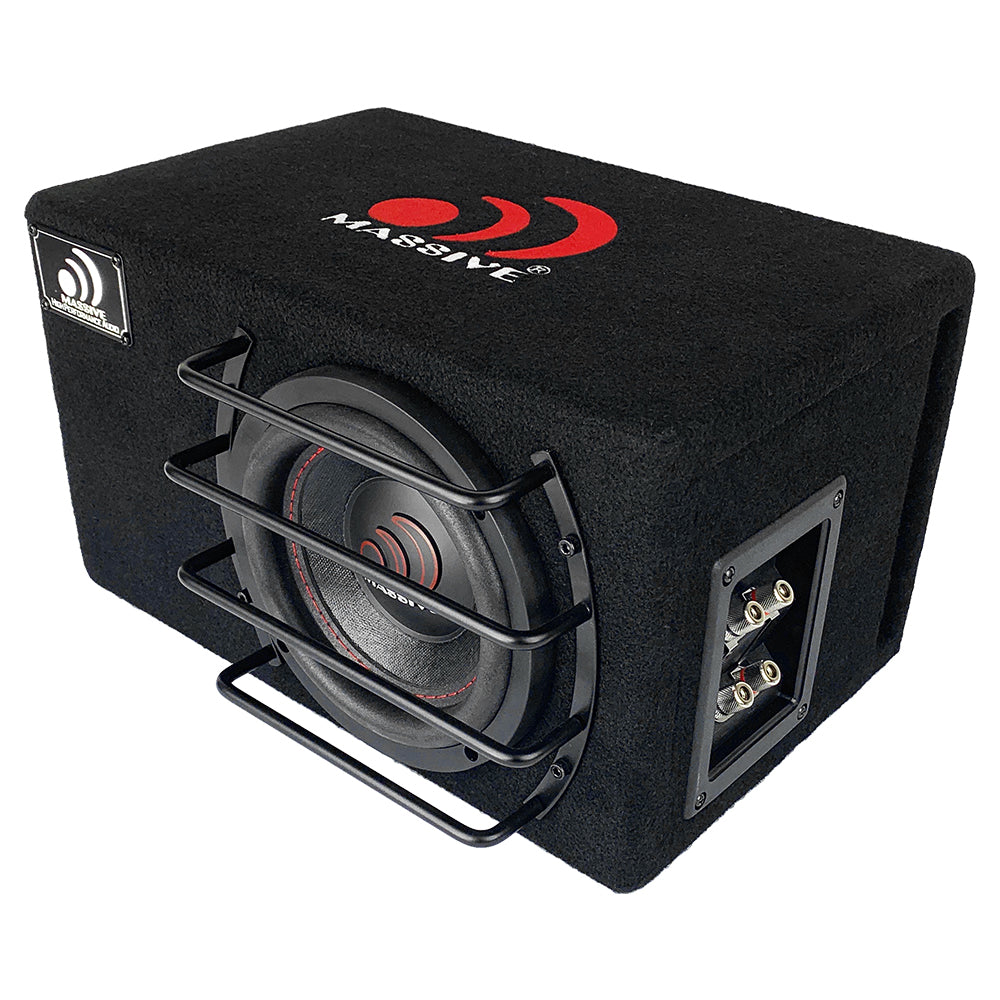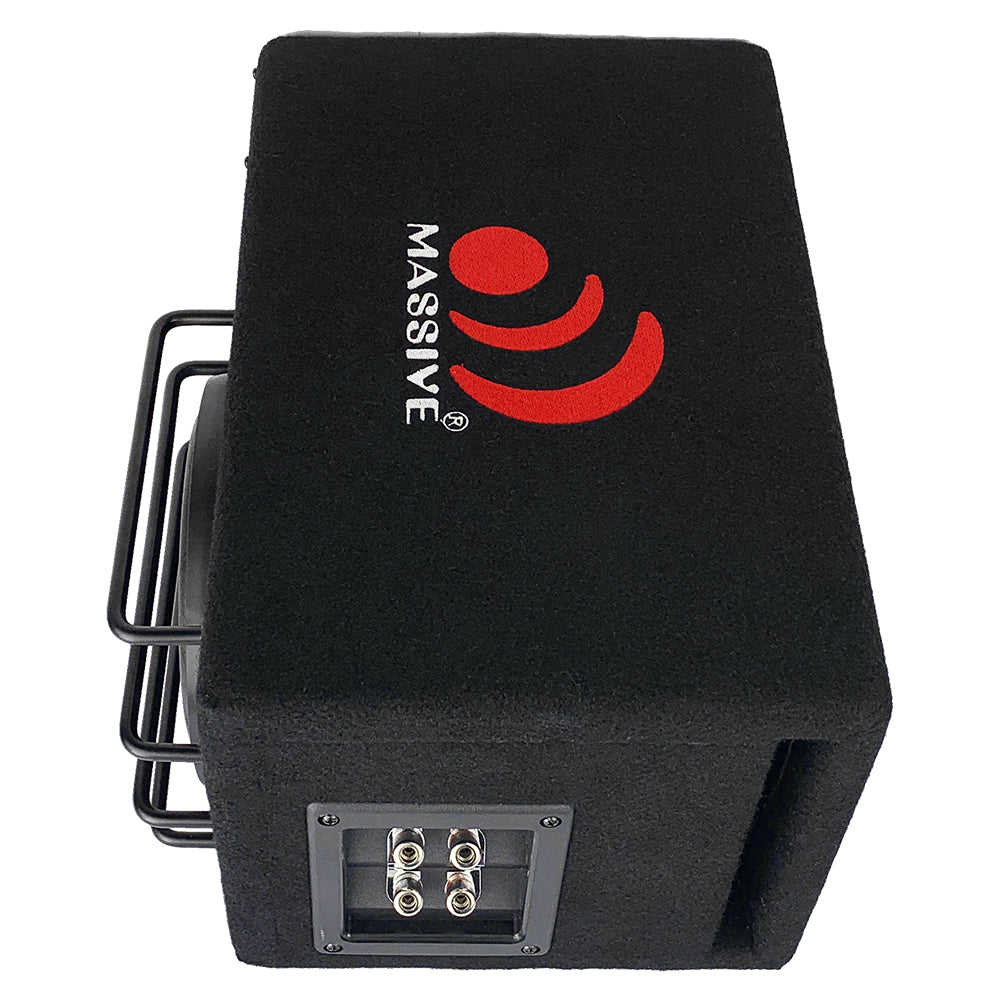 SKU: BG8
BG8 - 8" Pre-Loaded 400 Watt RMS 2-Ohm Subwoofer in Ported Enclosure
DESCRIPTION

Manuals & Downloads

FEATURES

SPECIFICATIONS

SHIPPING & RETURNS
Our Massive Audio BG8 is the perfect Bass solution for those with limited space and an unlimited thirst for sound quality. The BG8 is an 8" Subwoofer pre-installed within an Industrial Grade Carpeted ported enclosure. The BG6 pre-loaded Subwoofer is conservatively rated to handle 400 Watts RMS, yet efficient enough to yield high Sound Pressure Levels. It utilizes an internally wired 2" Inch, 4 Layer, 2 Ohm Voice Coil and incorporates tight Red stitching that is sewn through a UV Treated Non-Pressed Paper Cone with an EROM Foam Surround. The entire cone assembly is bonded to a heavy gauge steel basket that bolts to High Grade Double Stacked Strontium Ferrite Magnets.
The critical function of keeping the voice coil centered in the magnetic gap is performed by the triple black poly cotton spiders with mirror image layout and woven round tinsel leads. Their enclosure utilizes heavy duty black anodized deep steel woofer bars to protect the cone while allowing for maximum X-Max.
Die Cast Basket with Black Textured Finish
UV Treated Non-Pressed Paper Cone 
EROM Foam Surround with Red Stitching
2" 4-Layer Hi-Temp Voice Coil 
Fiberglass Woven Dust Cap
Double Stacked High Energy Magnets 
Enhanced Cooling T-yoke Design with Black Anodized Finish
Customized Rubber Gasket and Magnet Boot
Triple Black Poly Cotton Spiders with Mirror Image Layout

Customized Rubber Gasket & Magnet Boot

Black Anodized Deep Steel Woofer Bars
High Quality Industrial Grade Carpet Ported Enclosure


| | |
| --- | --- |
| Size | 8" |
| Watts RMS | 400w |
| Peak Power | 800w |
| Cone | UV Treated / Non-Pressed Paper |
| Voice Coil | 2"  |
| Surround | EROM Foam |
| Magnet | Double Stacked High Flux Y30 90oz Strontium Ferrite |
| Terminals | 5 Way Binding Push Terminals |
| Basket | Heavy Gauge Cast Aluminum |
| Tinsel Leads | Heavy Duty Triple |
| X-Max | 10mm (1-way) + 10mm Top Plate |
| SPL | 88 dB @2.83V/1m |
| FS | 42.1Hz |
| Dimensions | 17.1" x 11" x 10.27" |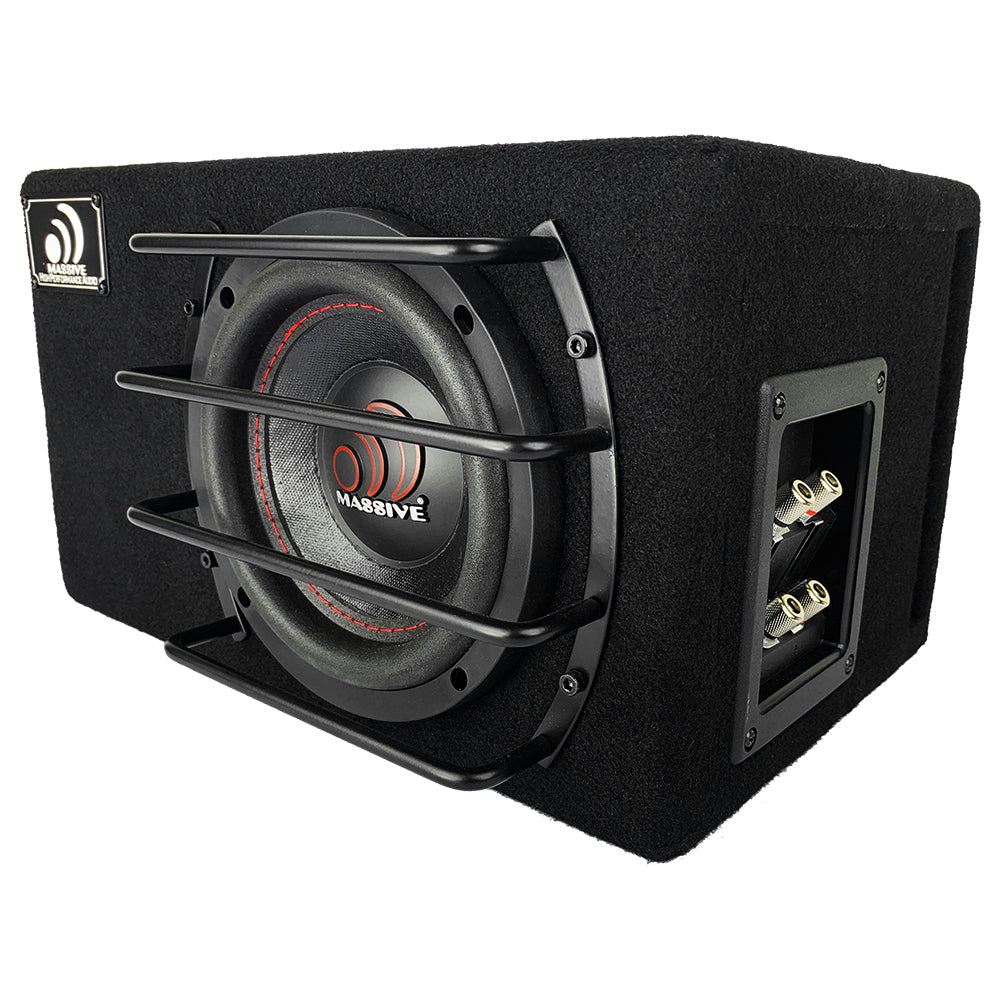 This product has no reviews yet.