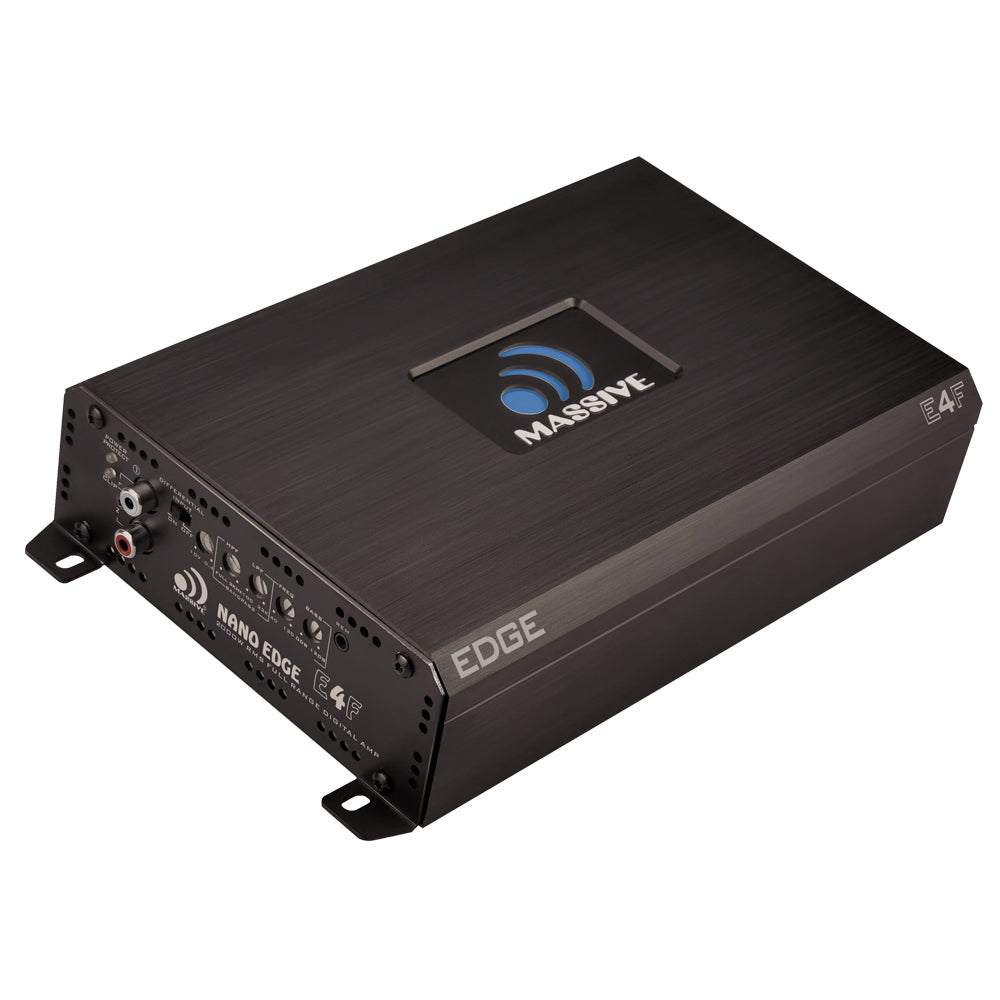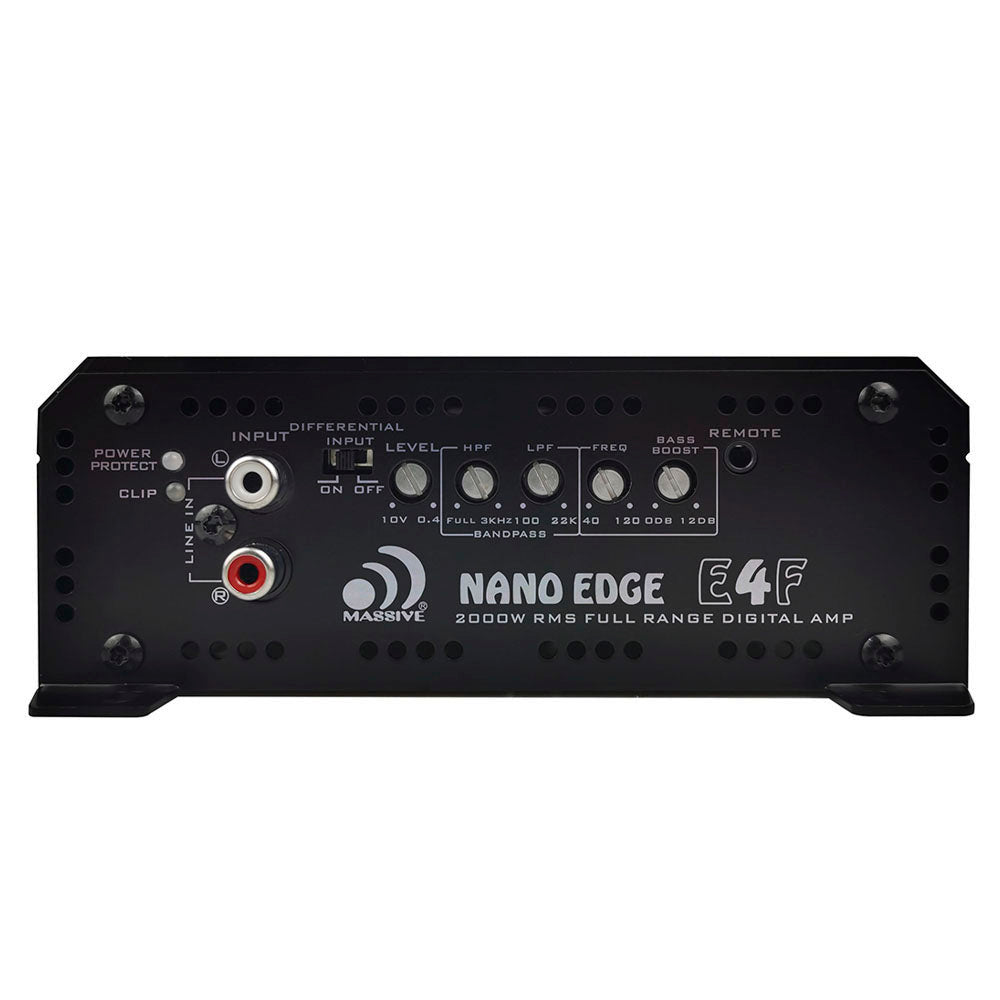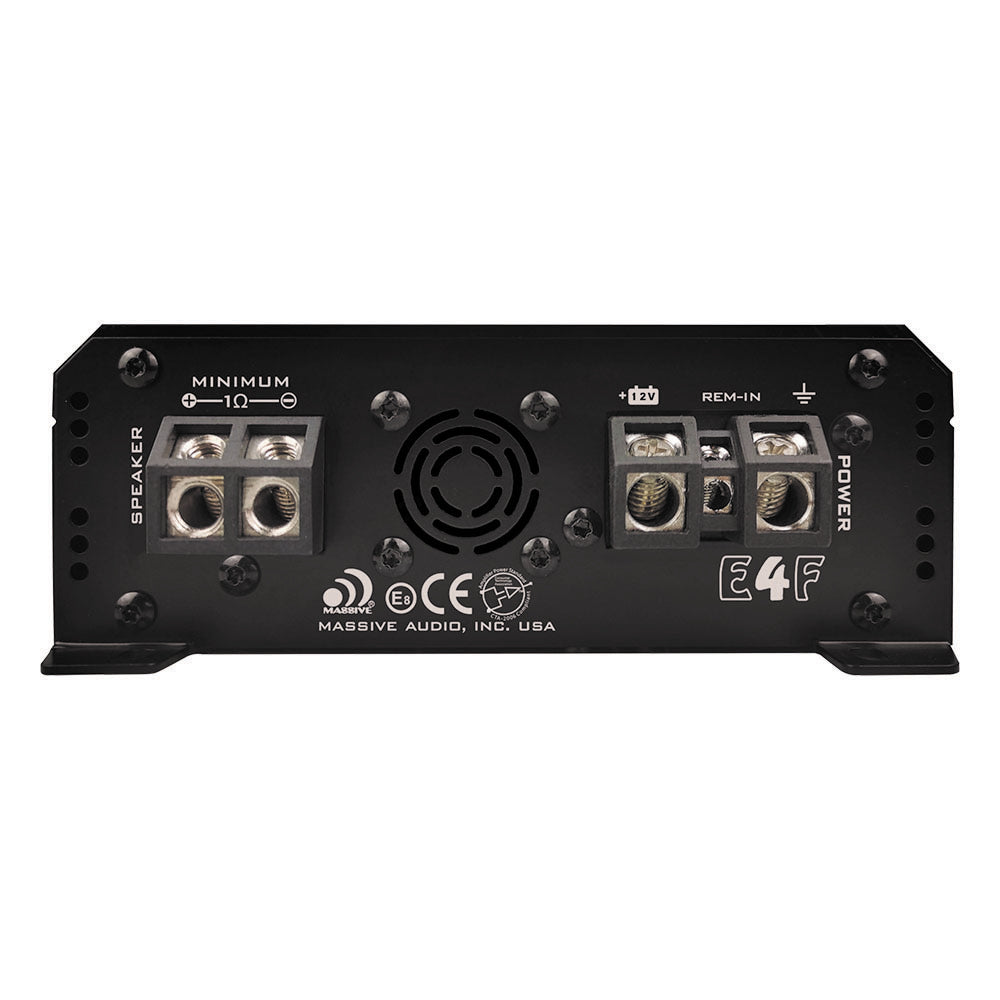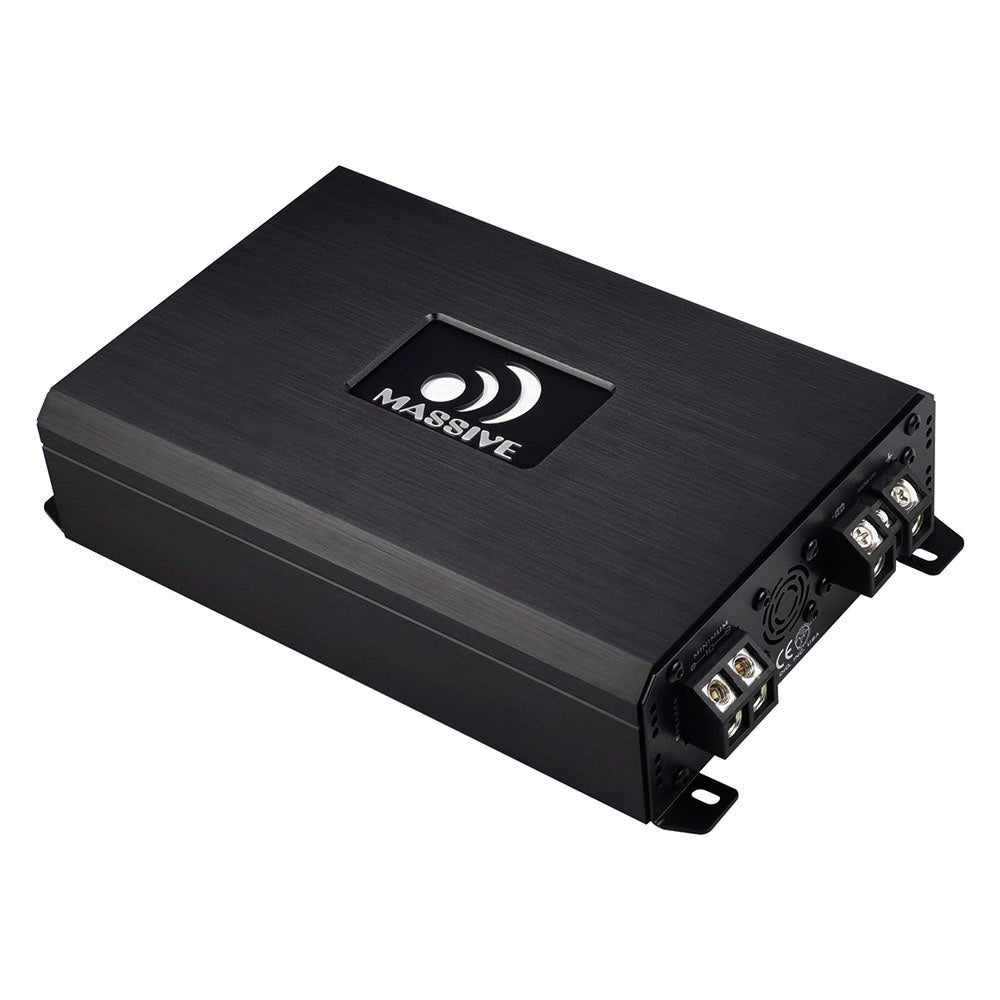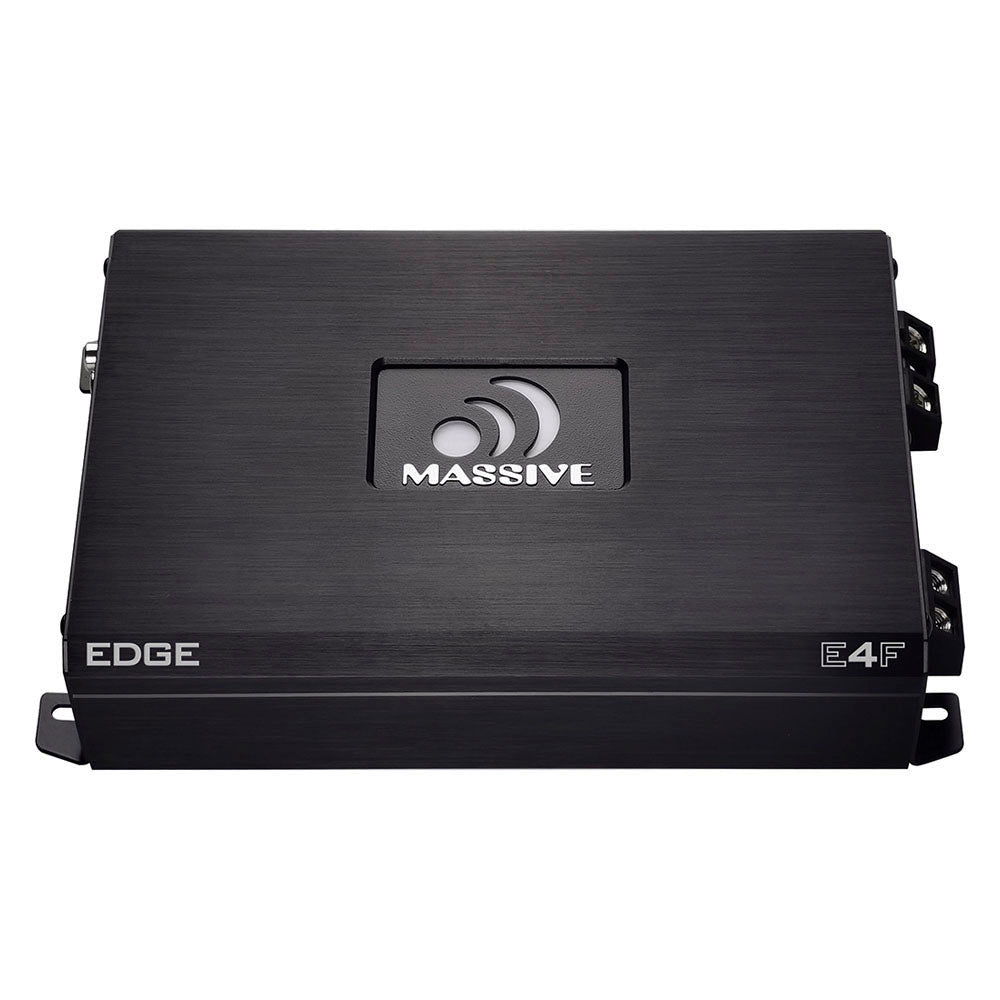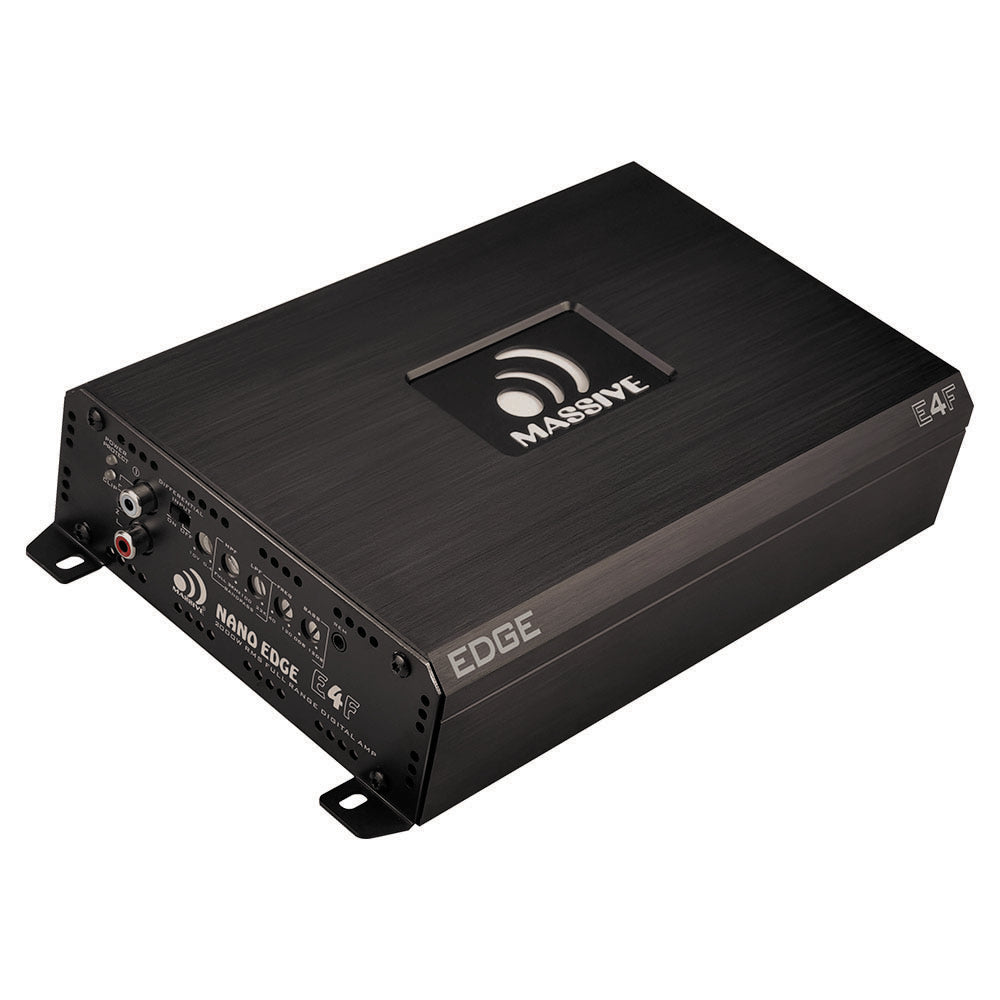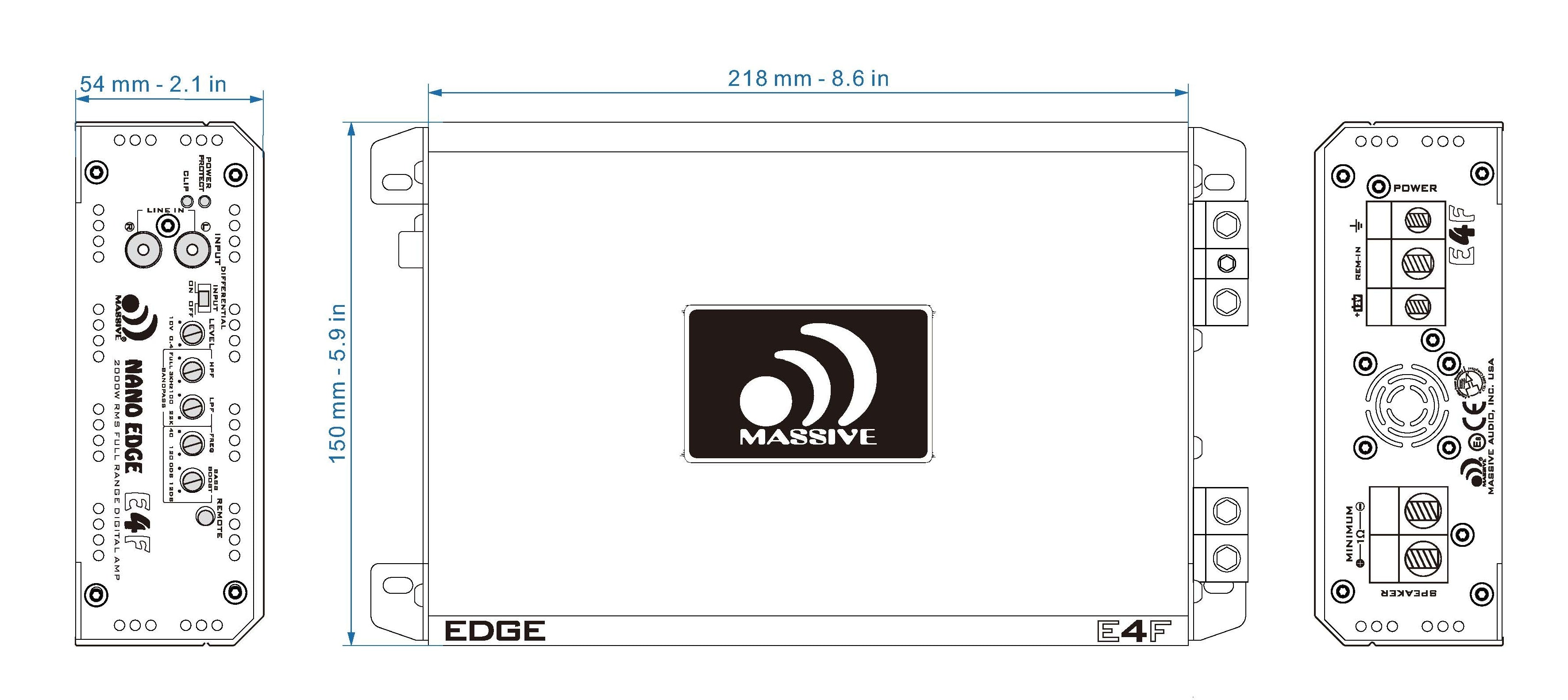 SKU: E4F
E4F - 2,000 Watts RMS x 1 @ 1 Ohm Full Range Compact Mono Amplifier
DESCRIPTION

 FEATURES

Manuals & Downloads

SPECIFICATIONS

SHIPPING & RETURNS
Don't let its diminutive size fool you, this ultra compact Massive Audio E4F "EDGE" Series Amplifier is a Class D powerhouse capable of up to 2000 Watts RMS at 1 Ohm. With a frequency range of 25Hz - 18KHz this amplifier will deliver high current for Subwoofers, Mid-Range and Full Range Speakers!
It's Class D design enables it's compact footprint and cool running within all system configurations. There's no need to worry about "running out of gas", our E4F has a regulated power supply and dual output voltage.
As with all Massive "Edge" series Amplifiers only the highest quality materials are used. One example is our use of Double Sided, Mil Spec PCBs with Surface Mount Devices. Another Massive "Edge" family trait is the inclusion of our built-in OEM Line Level Converter with RCA inputs, capable of processing RCA or Speaker levels signals up to 10 Volts! This built in converter eliminates the need for an additional component, thereby reducing cost.
Differential input switching allows for twisted or single end RCA connections to prevent ground noise for those difficult installations and when using a high input source this Amplifier has a built-in auto sensing turn on function. The E4F features variable LPF, HPF and Full Range crossovers for precise tuning.
The E4F also features a 0 – 12db variable Bass Boost circuit that can be controlled remotely with purchase of our UR1 Bass Boost control and maintaining our legacy of continually upgrading, we include our Next Gen Advanced 5 Way Protection circuitry.

Built-In OEM Line Converter

Versatile Full Range

25Hz - 18KHz 

Class D Monoblock 
High Power in Extremely Small Heat Sink

Differential Input Switch to Eliminate Noise 
Clip LED to Indicate Signal Clipping  
Mil Spec Double Sided PCB with SMD Parts


Built-in Noise Reduction Circuitry

Full Mosfet with High Grade Switching Devices

Regulated Power Supply & Dual Output Voltage

CTA-2006

Compliant

Built-in Auto Sensing Turn-on via Hi-Input

12v Remote Output for External Devices

0~12dB Variable Bass Boost

Next Gen Advanced 5 Way Protection


RMS Power @ 1 Ohm
2000w x 1
PEAK Power
4000w x 1
RMS @ 2 Ohms
1400w x 1
Bridged RMS
n/a
Min Impedance
1 Ohm
Min Ohm Bridged
n/a
THD
<0.1% @ 4 Ohm
S/N
>95 dB
Max Voltage
15v
Max RCA Voltage
10v
Freq. Response

25Hz - 18KHz

Dimensions
8.58 (in) x 5.9 (in) x 2.1 (in)
Bass Remote
UR1 

(Optional)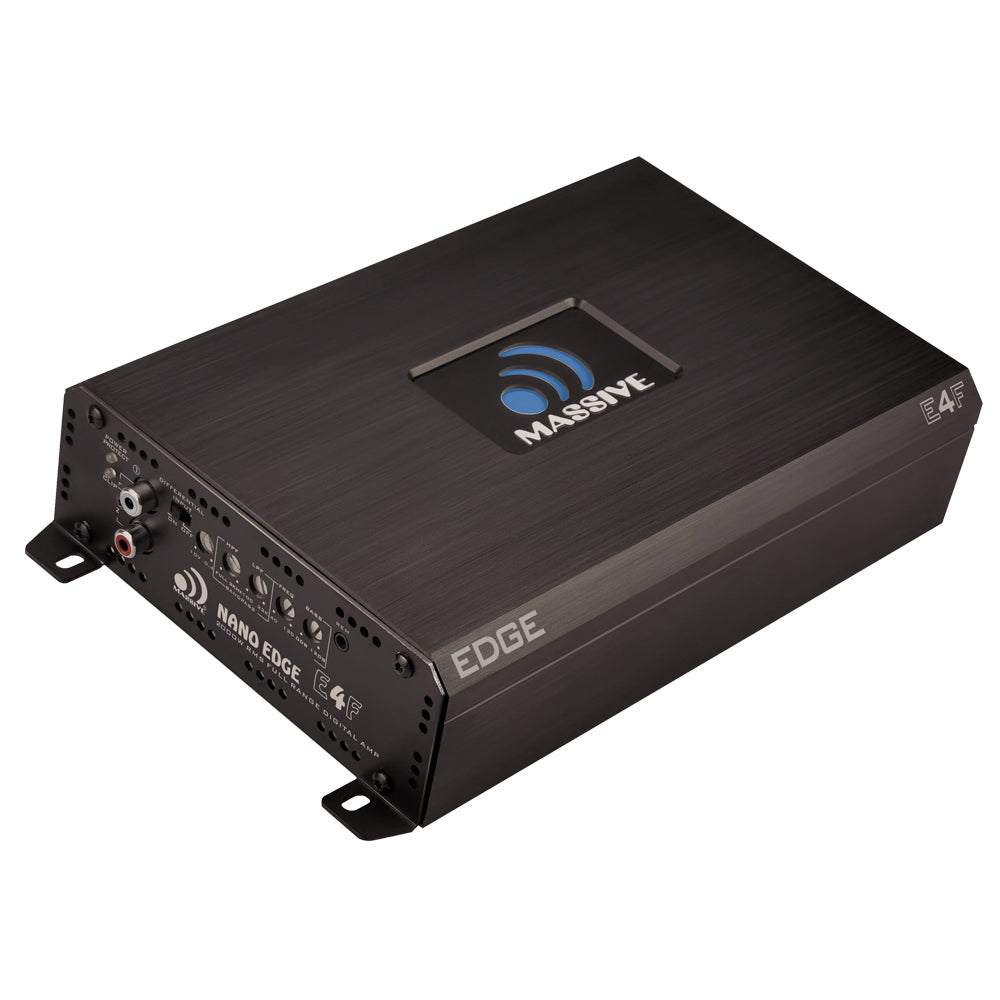 This product has no reviews yet.