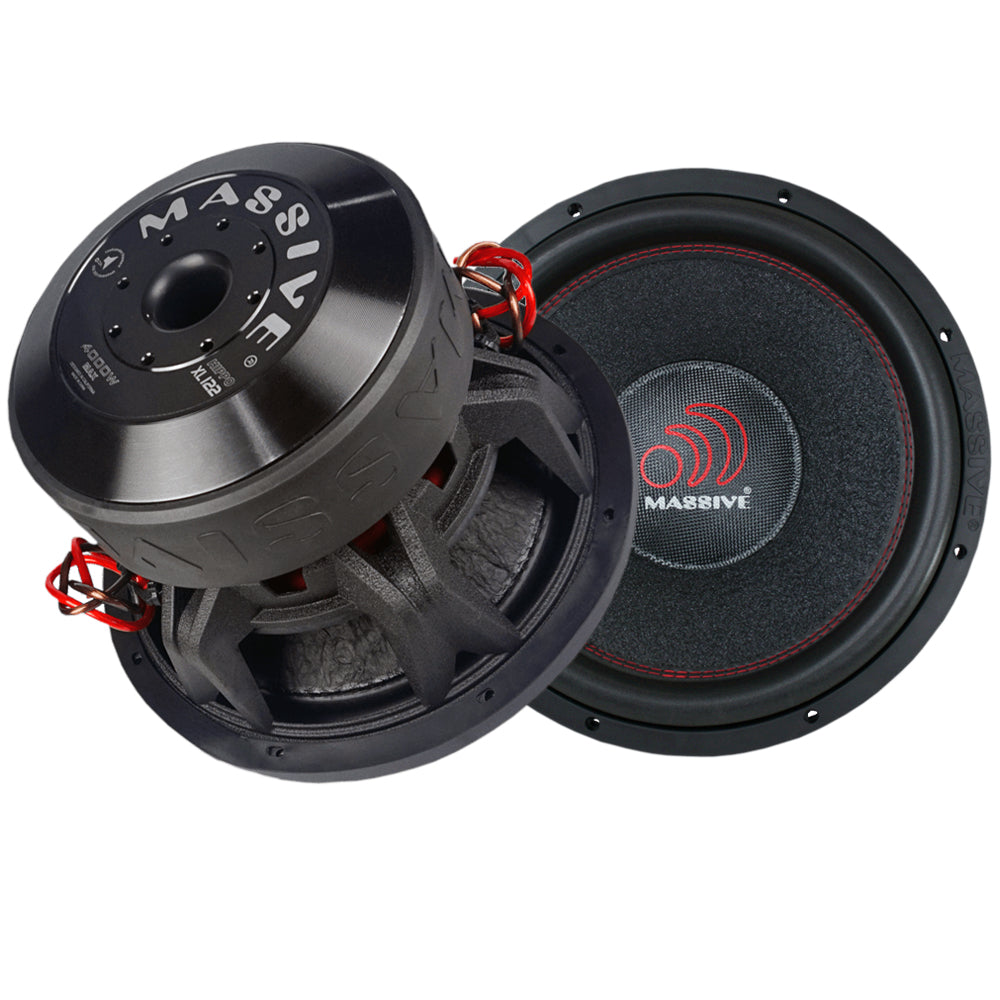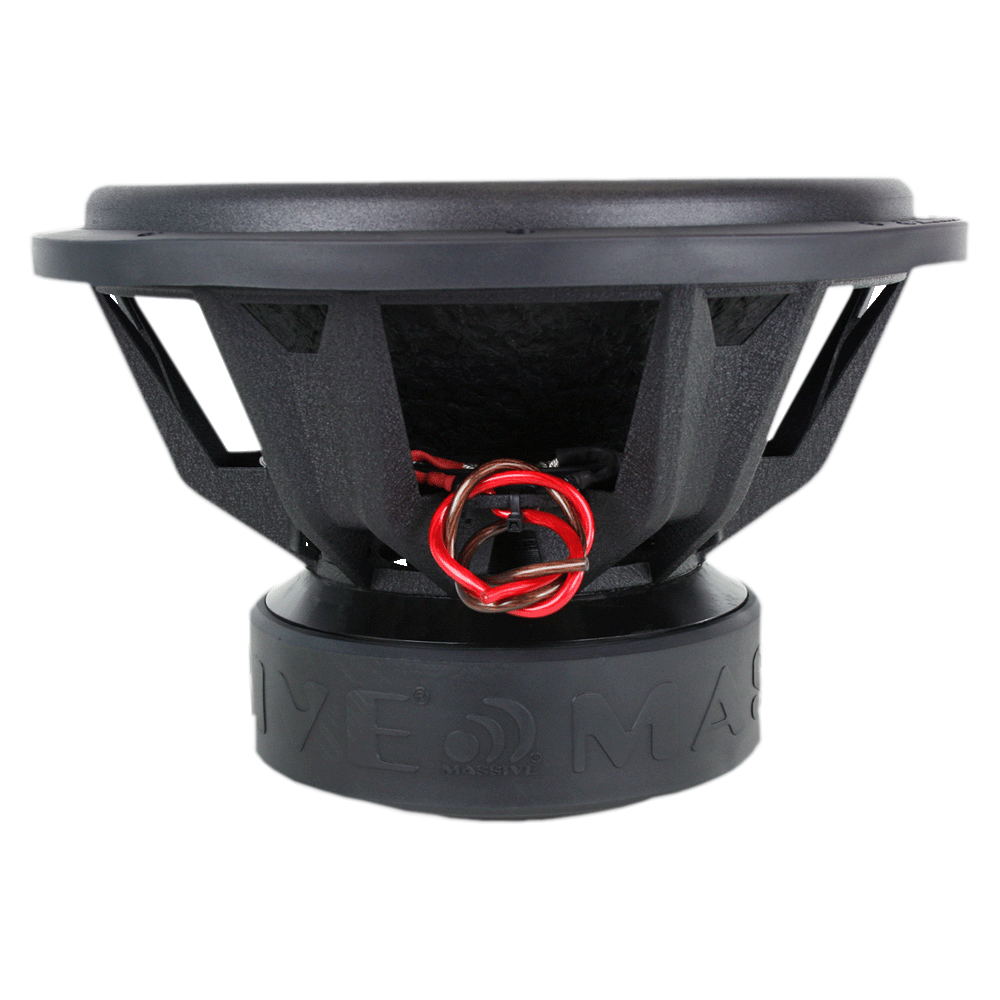 SKU: HIPPOXL124
HIPPOXL124 - 12" 2000 Watts RMS Dual 4 Ohm 3" V.C. Mega Subwoofer
DESCRIPTION

Manuals & Downloads

FEATURES

SPECIFICATIONS

SHIPPING & RETURNS
SOLD AS EACH
*BY PURCHASING THIS HIGH PERFORMANCE PRODUCT YOU AGREE TO THE TERMS AND CONDITIONS SET FORTH IN THE LIMITED WARRANTY EXCLUSION POLICY
There is an obvious reason the HippoXL12 is one of our all time best selling subwoofers. It is overbuilt and it shows.  How can something be called MEGA and XL?  All you have to do is pick up the HippoXL12 just once, and see for yourself why it is classified as a MEGA subwoofer.  At Massive Audio, when we design a subwoofer, we start with a performance goal.  Every time we surpass that goal with the end result.  The goal for the entire HippoXL subwoofer line up is to make the best high all-around, high output subwoofer for musical installs.  
Grab a hold of a HippoXL12 and you can see the extent as to how far overboard we went with the design of the subwoofer.  Not just your average high output subwoofer, but one of power and precision that can produce clean and accurate low notes in all kinds of installs and all kinds of music. At the heart of HippoXL12 is a stout 3" coil that can take plenty of heat and power from the most demanding installs.  The voice coil is wrapped on an anodized aluminum former, for strength and weight savings, and we loaded up with triple heavy duty leads.  We even added Kevlar spunlace for additional durability under extended use.  Rated for 2000 watts to stay ahead of the pack in its class.
We mated an oversized, high strength, double stack 350oz motor to control that oversized voice coil.  To help with all that power and heat, is a vented back plate and basket, to keep the bass cool for years to come.  On the face of things, the HippoXL12 has a Kevlar Fiber reinforced, non-pressed paper cone, which provides a natural tone and great cone rigidity for clean bass notes.  Keeping that sweet cone in check is up to the dual Nomex spiders that we have in a mirrored stack, as well as a high roll surround.  Addressing rigidity between the moving cone and the motor itself, is a strong, but lightweight, cast basket.
For those who care about the show as well as the go, there is red stitching to increase cone-to-surround connection strength.  The cast aluminum basket has a great textured finish, and the front and center dust cap is a fiberglass woven showpiece that can take a hammering.  To make wiring up easy and power flow to the coil, we have heavy gauge direct leads pre-installed.
In the end, what makes the HippoXL12 such a big hit, is how well all the precision parts come together to work as a musical subwoofer for those who need premium performance.  For those high output installs, where you really want to hit the low notes, Massive HippoXL12 is a killer   The Massive Audio HippoXL12 should be at the top of your list when it comes to a well made, superior designed & priced, competition level 12" subwoofer.
Enclosure suggestions:
Sealed
: 1.4 cubes after displacement (0.095)
Ported
: 1.8  cubes after displacement, @ 37hz, 28 square inches of port area
Heavy Duty, Rugged Industrial Textured Cast Aluminum Basket
350oz High Energy Double Stack Strontium Magnet Structure
Dual Impedance Black Anodized Voice Coil Former with Kevlar Spunlace
Kevlar Fiber Reinforced Non-Pressed Paper Cone with Industrial Textured Finish
Red Stitched Edge to the Cone's Edge for Added Strength
Over Sized Mirror Image Dual Poly / Nomex Spiders
Black Anodized One Piece Pole-Plate for Added Motor Force
Heavy Duty Direct Input Wires Connection to Voice Coils
Reinforced Fiberglass Woven Dust cap for High Power Applications
Custom Tooled Rubber Gasket and Magnet Boot
*T/S Parameters on website supersede user manual specifications 
| | |
| --- | --- |
| Size | 12" |
| Peak Watts | 4000 |
| RMS Watts | 2000 |
| Cone | Non-Pressed Paper |
| Voice Coil | 3" Dual 4 Ohm |
| Surround | Tall and Narrow Foam |
| Magnet | 350oz Strontium |
| Terminals | Heavy Duty Direct Input Wires Connection |
| Basket | Cast Aluminum |
| Tinsel Leads | Heavy Duty Triple |
| X-Max | 17.5mm |
| SPL | 87.6dB |
| Ported Box | 15.1" H x 13.5" D x 15.6" W (Round Port 8.6" x 5.9") Internal |
| Sealed Box | 1.65 ft3 Internal |
| Fs | 40.01 Hz |
| Re | 3.6 Ohms |
| Le | 7.24 mH |
| BL | 24.1 Tm |
| Qms | 4.43 |
| Qes | 0.74 |
| Qts | 0.64 |
| Vas | 30.19L |
| Cms | 0.0329 mm/N |
| Mms | 480.9g |
| Sd | 804 sq cm |
| Vd | 1.4L |
*T/S Parameters on website supersede user manual specifications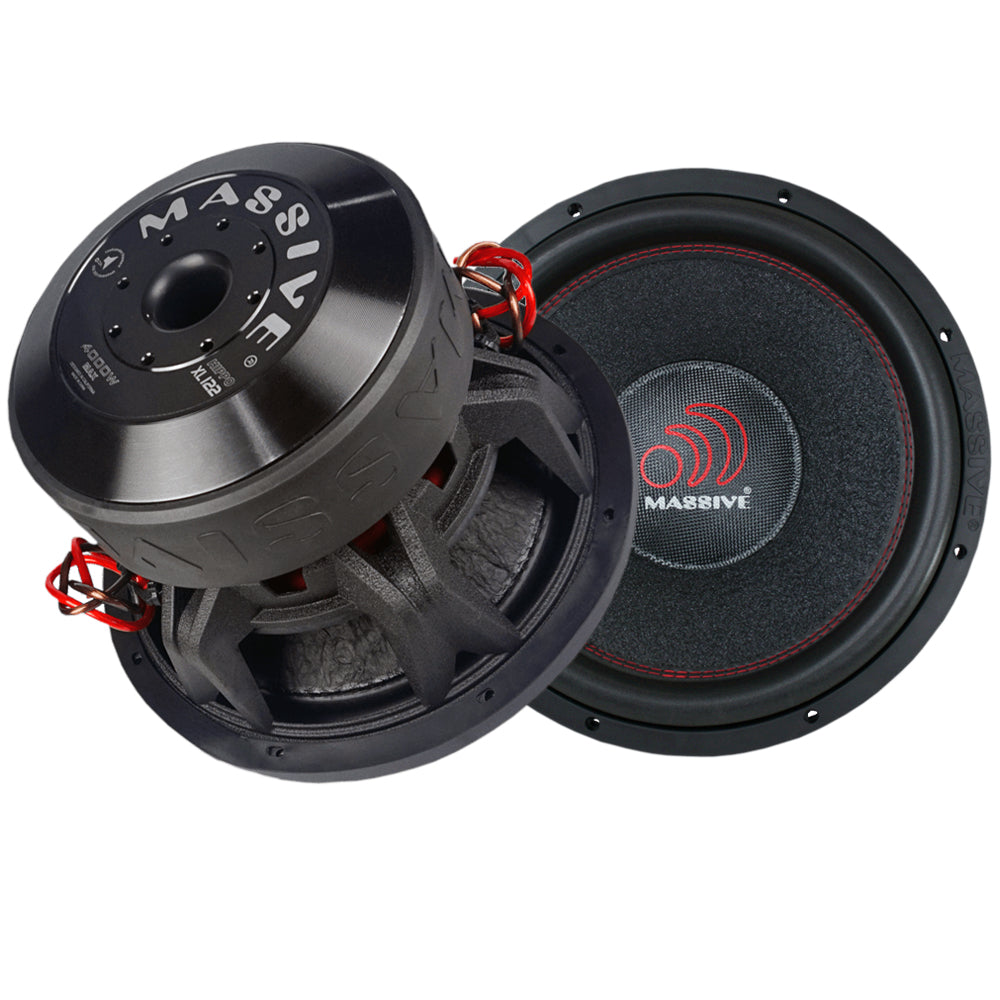 This product has no reviews yet.