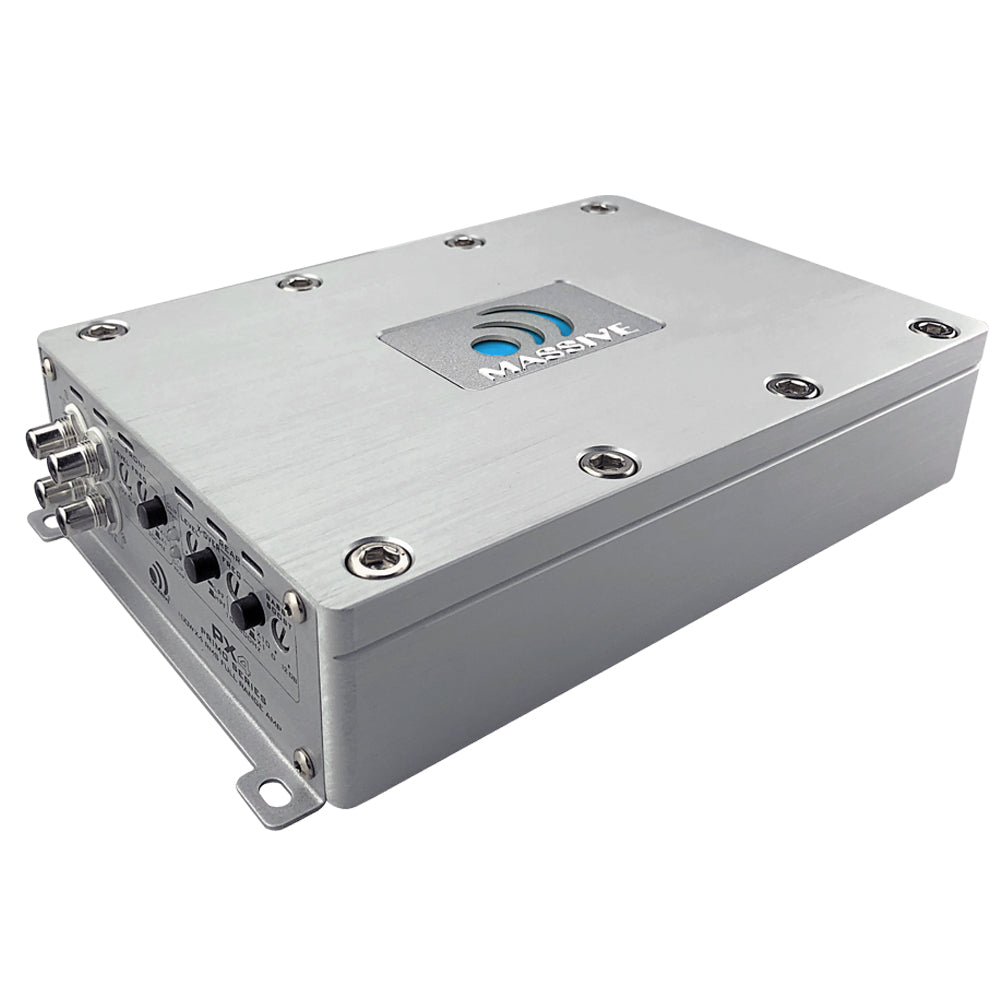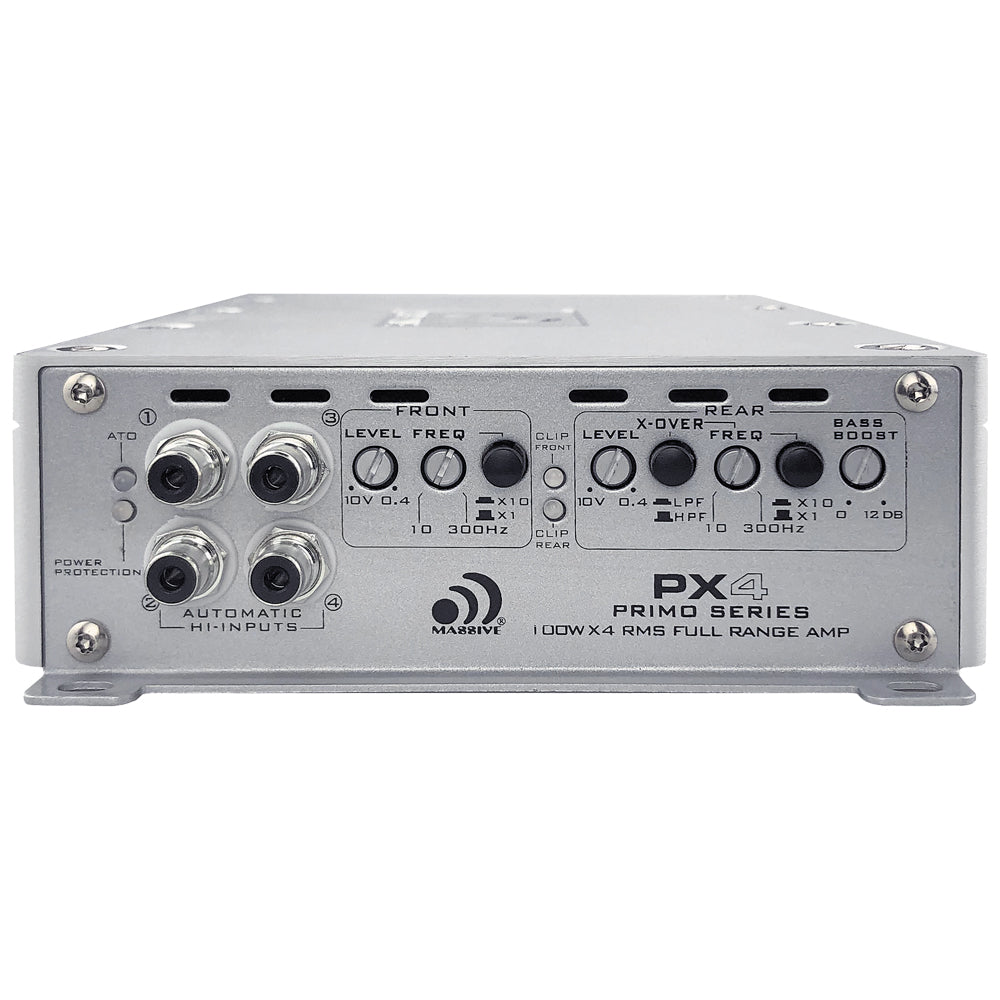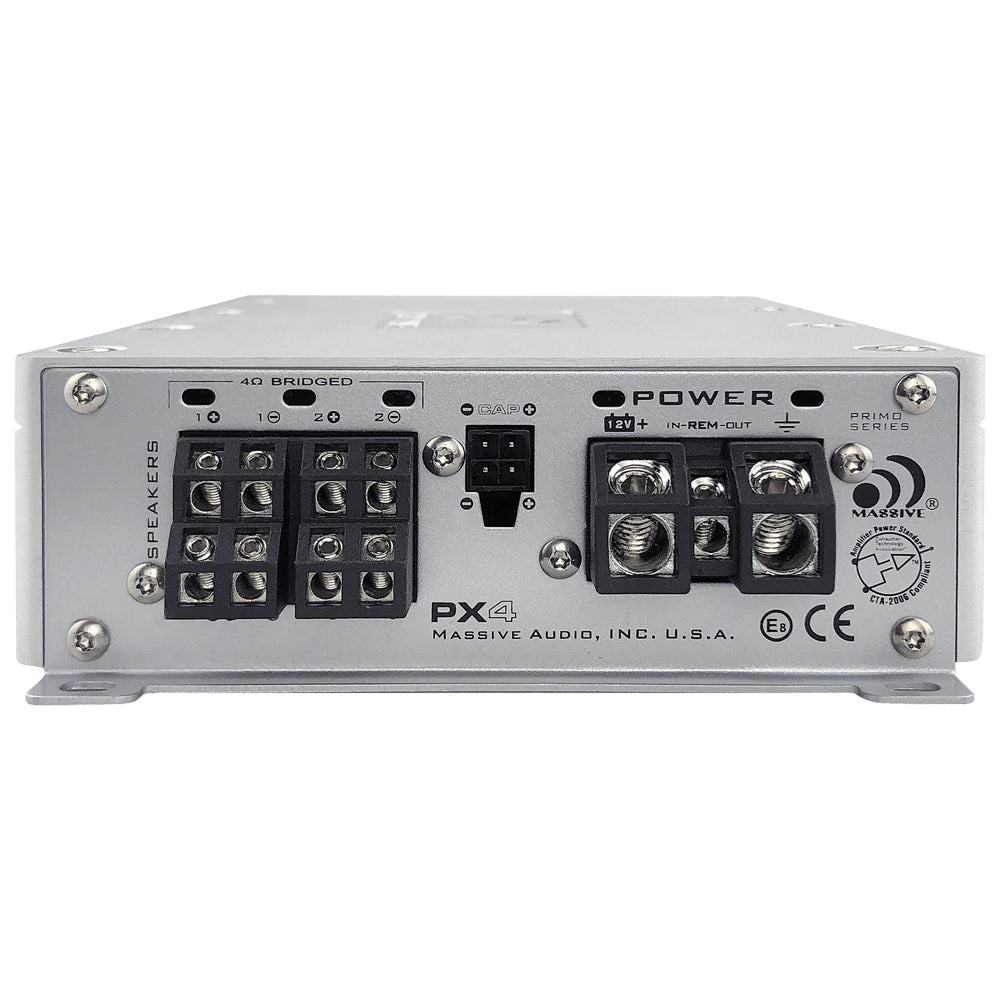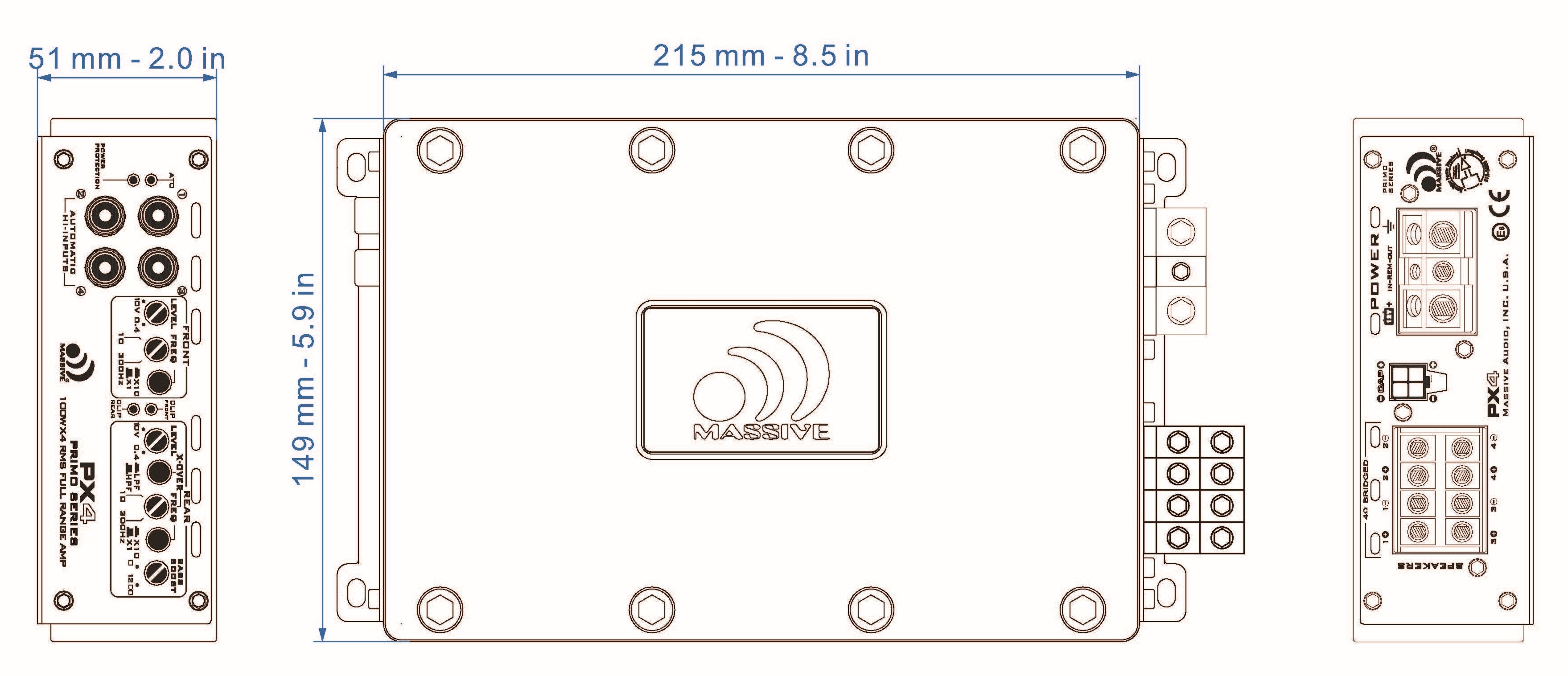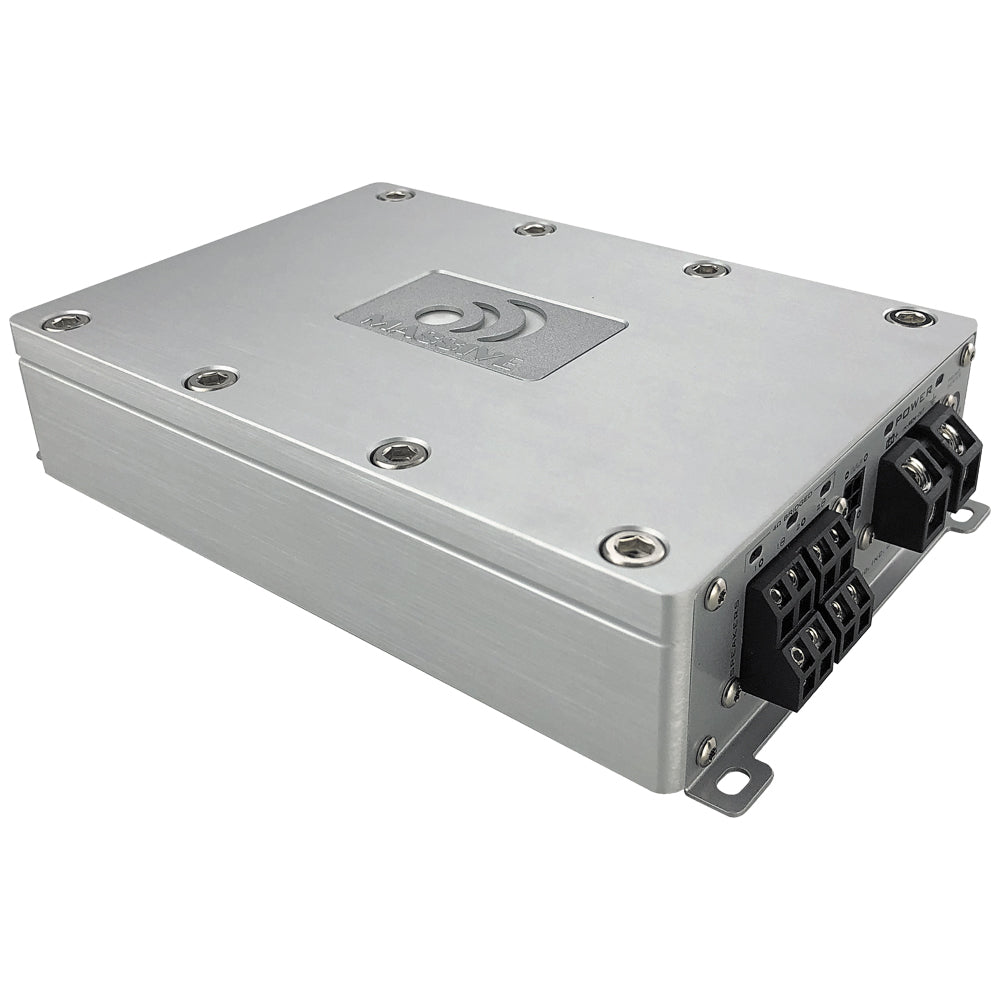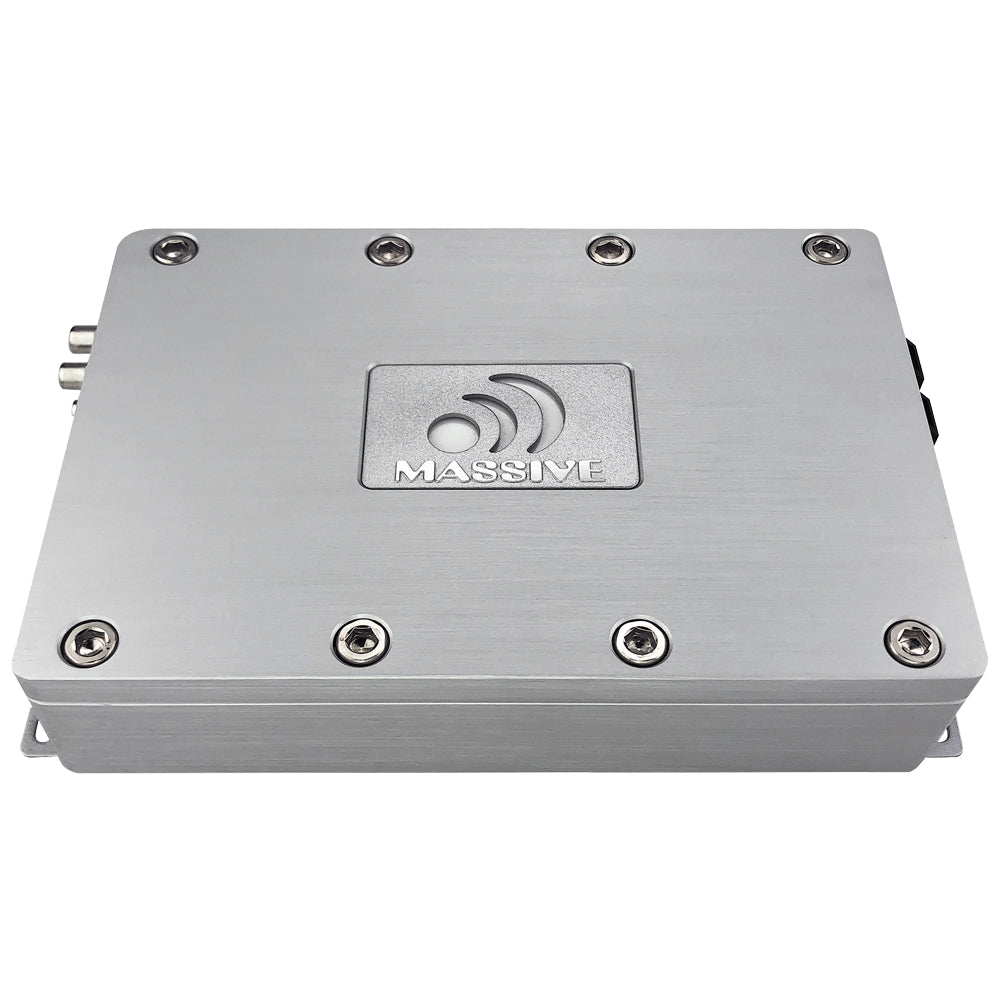 SKU: PX4
PX4 - 100 Watts RMS x 4 @ 4 Ohm 4 Channel Amplifier
DESCRIPTION

Manuals & Downloads

 FEATURES

SPECIFICATIONS

SHIPPING & RETURNS
According to Merriam Webster's Dictionary, primo is considered to be "Of The Finest Quality". Living up to that standard we proudly present another entry in the Massive Audio PRIMO series of Class D Amplifiers, designed and engineered in the USA. This PRIMO PX4 is a multi-channel Amplifier that easily delivers up to 150 Watts RMS to each of 4 Channels @ 2Ω and 300 Watts to 2 Channels @ 4Ω. All PRIMO series amps use Mil Spec PCBs with Surface Mount Devices.
Inside you will discover full MOSFET high grade switching devices and you can be assured your investment will last as a result of our 5 way protection circuitry and  LED Clipping Indicators for front & rear. Our built-in OEM Line Converter enables installation of this Amplifier in any system as a result of its input sensitivity adjustable up to 10V RMS with our Auto Turn On circuit and there's a 12 Volt remote output for external 12 Volt devices. Adding to its "street cred" is its compliance with the Consumer Technology Association's CTA 2006 Standards for Car Audio Amplifiers. Not only does it comply it actually outperforms these stringent standards All models are pretested and will outperform their published CTA 2006 rating. I.C.P. (In Car Performance) is the main design goal.
Outside you will be impressed by a smooth polished aluminum surface with our logo glowing radiantly in blue, announcing to the world you're in possession of PRIMO equipment. The end caps feature individual adjustments for level and crossover frequency for front & rear channels, plus a 0 – 12 dB variable Bass Boost on the rear channels. Additionally, the PX4 supports a "Docking Port" to plug in an optional custom matching 4 Farad Railcap Booster (RCP). 
Extreme Power in a Small Footprint
Full Range Digital
Clip Front & Rear LED Indicators

X1 / X10 Crossover Switching 

Low Distortion Full Band Width for Sound Quality Tuning
Mil Spec Double Sided PCB design with SMD parts
Built-in noise reduction circuitry
Full MOSFET with High Grade switching devices
Built-in Auto Sensing turn on function with LED Indicator (Hi-Inputs)
12V Remote Output for External Devices (Hi-Inputs)
0~12dB Variable Bass Boost 
Next Generation Advanced 5 Way Protection Circuitry
Illuminated Logo
Designed and Engineered in U.S.A.
CTA 2006 Standard Compliant 
| | |
| --- | --- |
| 2 Ohm RMS | 150w x 4 |
| 4 Ohm RMS | 100w x 4 |
| 4 Ohm Bridged | 300w x 2 |
| Input Level | 0.4 ~ 10V (High or Low) |
| Freq. Response | 15Hz ~ 25kHz |
| Low Pass Freq. | 50Hz ~ 750Hz |
| SubSonic (HPF) | 20Hz ~ 6kHz |
| THD at 4 Ohm Load 30% Rated Power | <0.03% |
| S/N Ratio | >110dB |
| Bass Boost | 0 ~ 12dB |
| Minimum Load | 2 Ohm |
| Gain Remote | n/a |
| Dimensions | 8.34 (in) x 5.9 (in) x 1.9 (in) |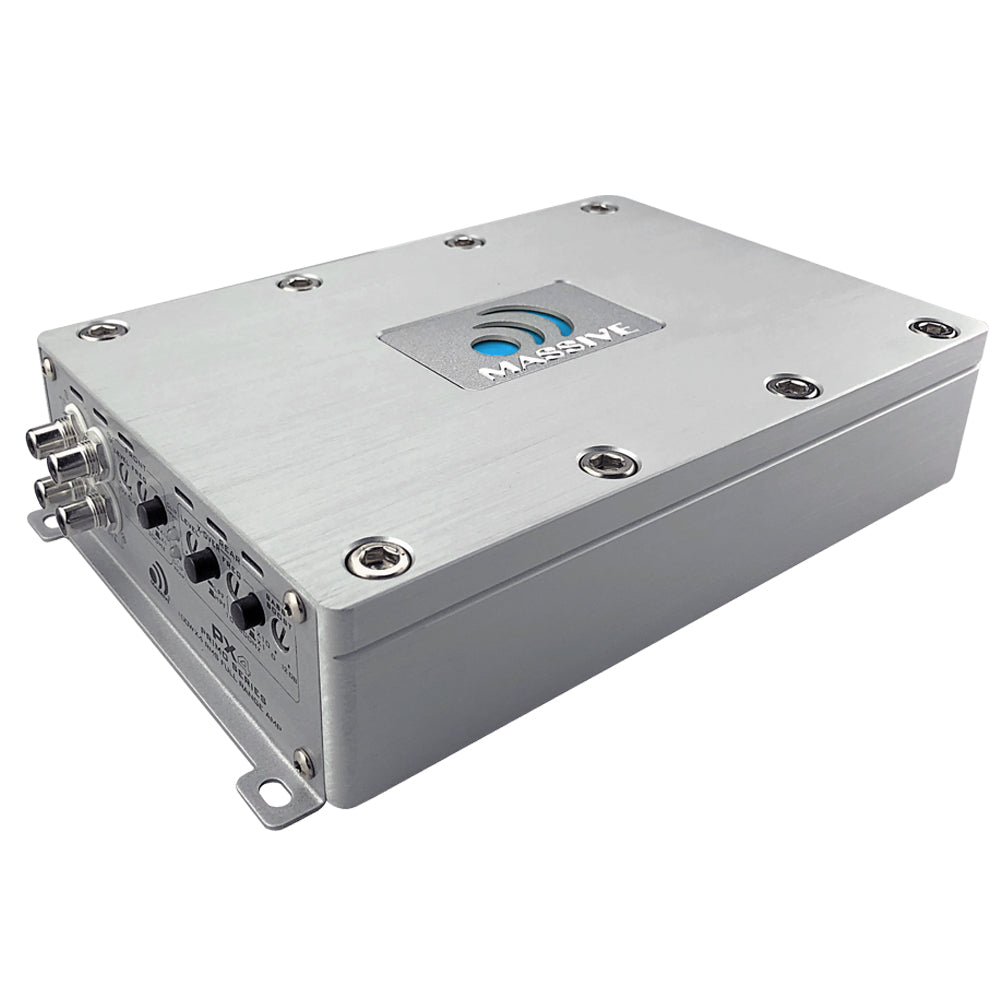 This product has no reviews yet.