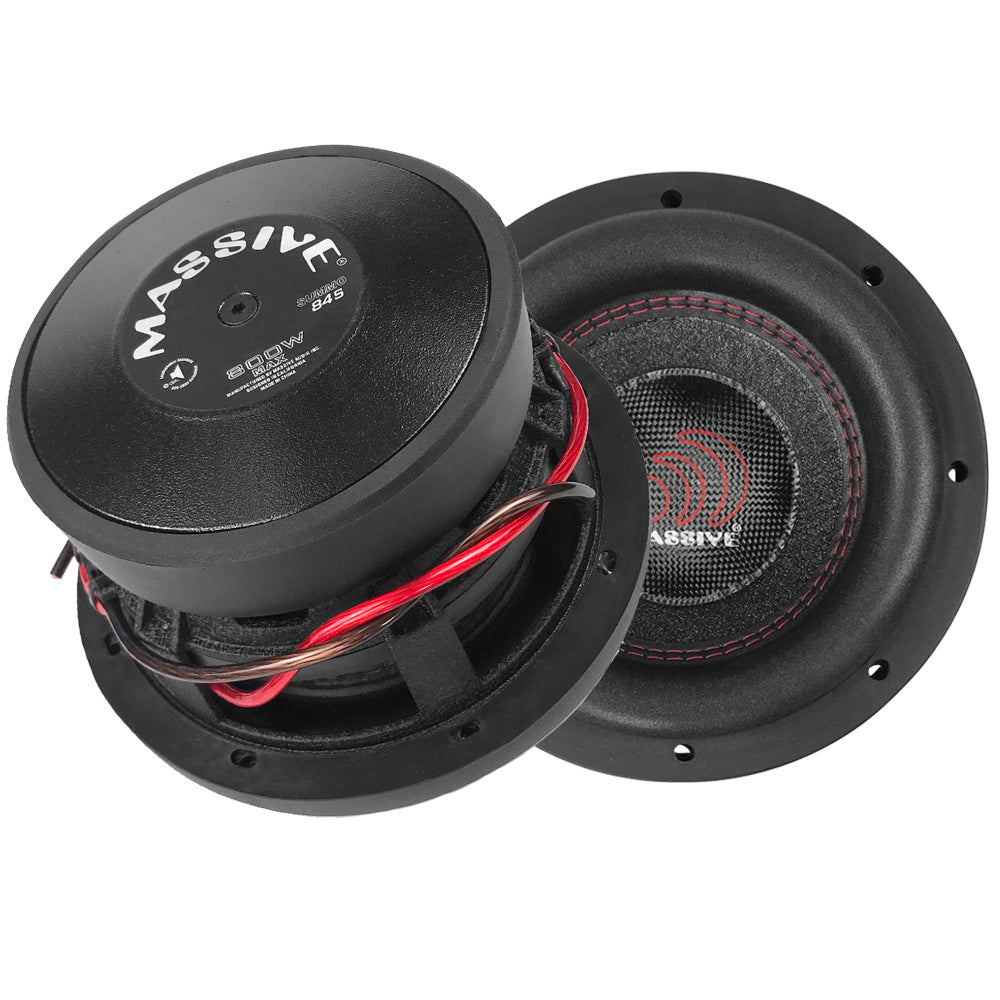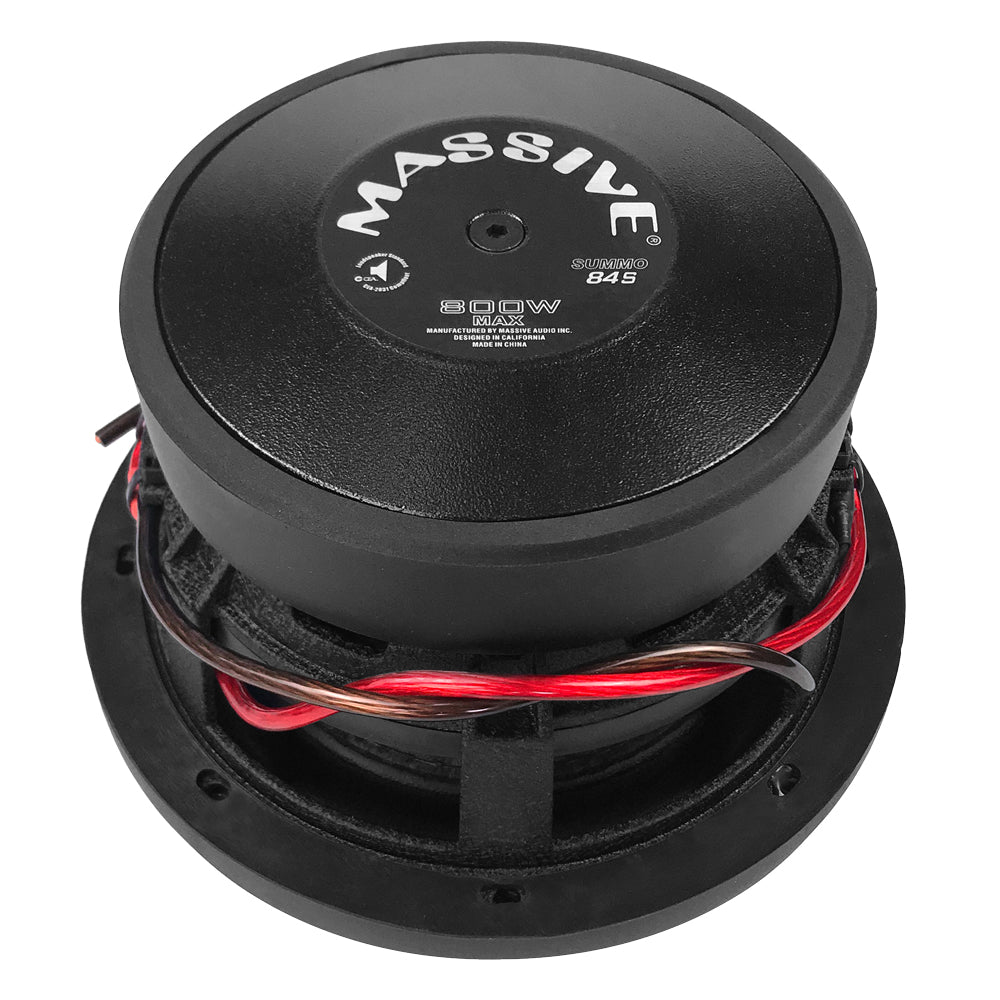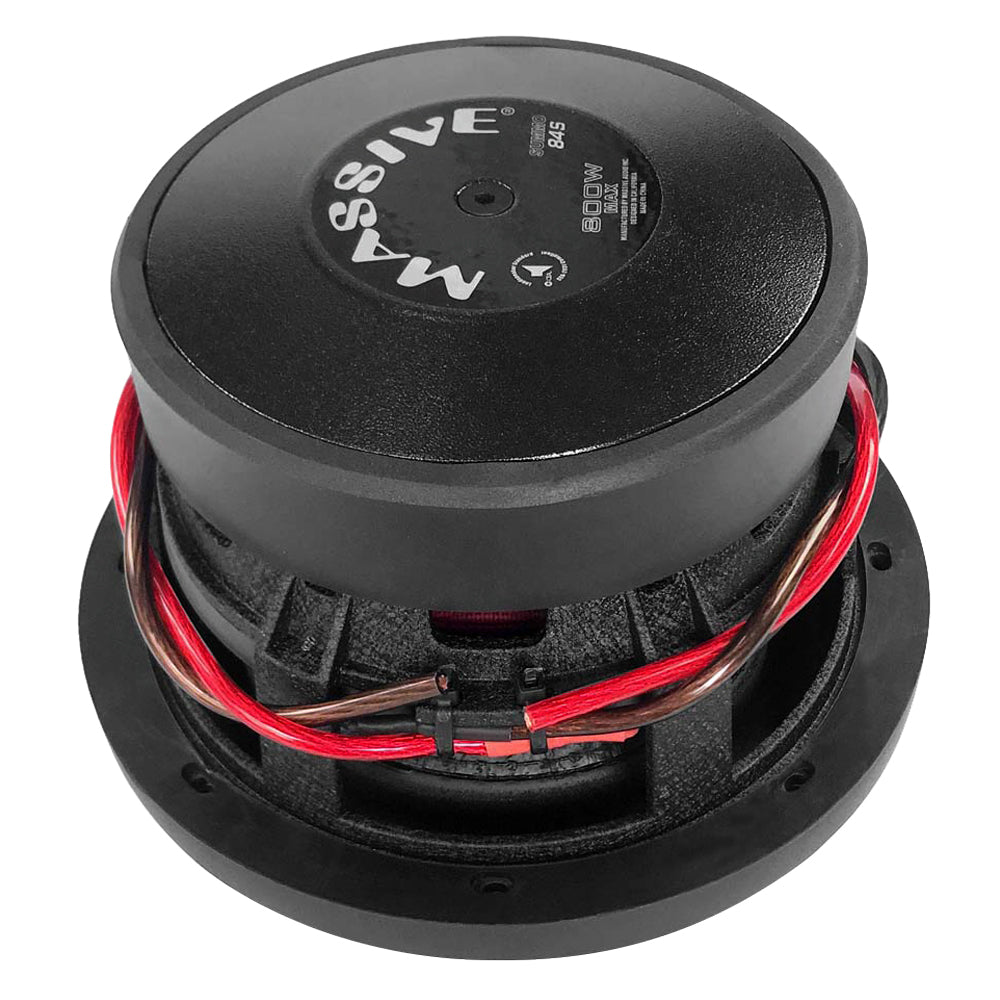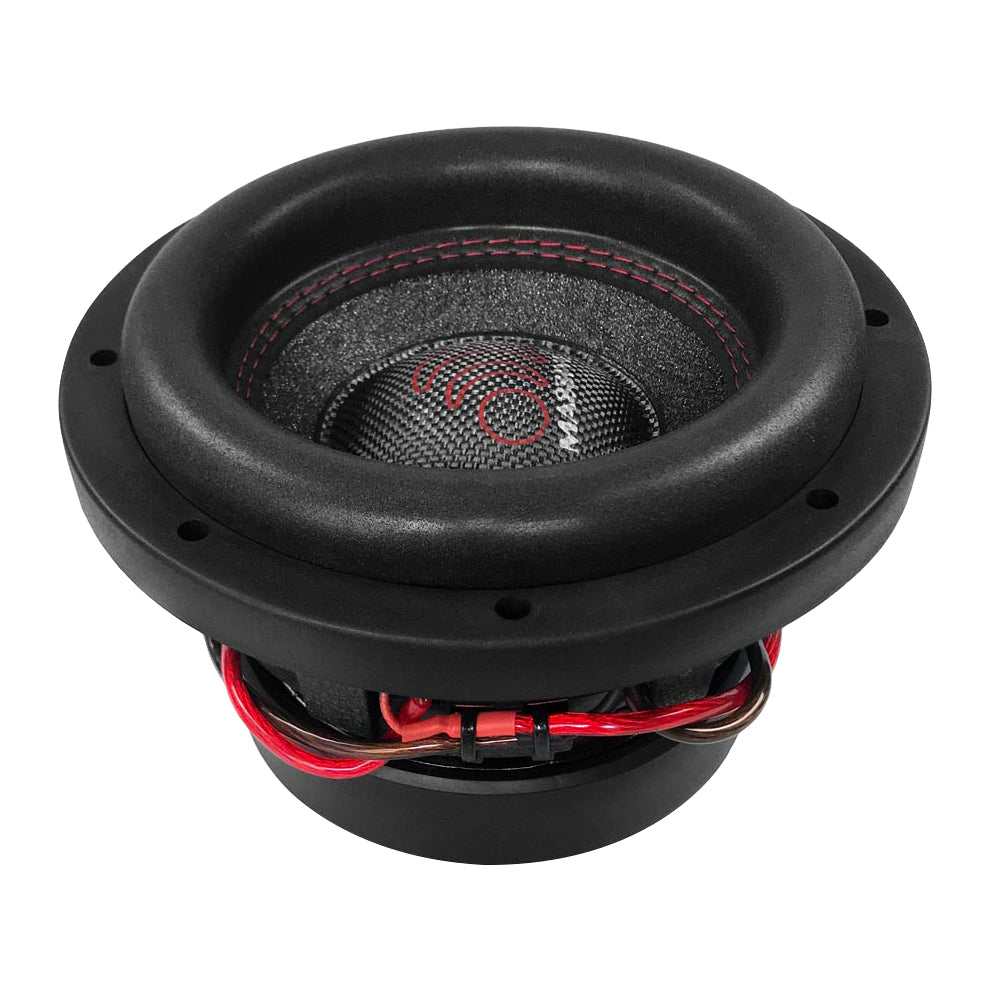 SKU: SUMMO84S
SUMMO84S - 8" 400 Watts RMS Dual 4 Ohm, 2" V.C. Shallow Mount Subwoofer
DESCRIPTION

Manuals & Downloads

  FEATURES

SPECIFICATIONS

SHIPPING & RETURNS
SOLD AS EACH
At Massive Audio, we aim to make unique designs to solve different challenges in audio.  For example, we approached the 10" & 12" shallow mount subwoofer market with the very cool UFO series.  But what if you needed even more extreme space savings with a smaller sub, while still having great bass in your ride?  Our all new Massive Audio SUMMO84S is an innovative approach to that solution.
What makes the SUMMO84S special, yet unique in design you ask?  Well it's all in that new motor and new basket.  The SUMMO84S is taking the approach of reducing the height of the motor by reducing the height of the magnets.  But don't worry, we make up for it by increasing the outer diameter.  That way no motor strength is lost, yet mounting depth is improved.  We also moved the SUMMO84S to a solid pole motor design to increase motor strength even more by adding steel inside the motor.  Your first thought might be, wait, doesn't that affect the cooling?  Sure it does, that is why we went with a new basket design that employs loads of side vents for air flow out of the motor to keep the voice coil nice and cool under intense bass notes.  A benefit of the solid pole with no rear motor vent means you can go super shallow with the SUMMO84S as it does not need airspace behind the motor to stay cool.
Now, you might notice there is a hex head screw in the back of the motor.  No, that is not to take the SUMMO84S apart.  That hex head screw is to take the efficiency of the SUMMO84S up another notch.  When a subwoofer is playing deep notes, often baffles can flex and that causes output loss if there is enclosure flexing.  You want all of the output coming from the cone and port, not lost or wasted in the box flexing.  All of this means, you can physically mount the SUMMO84S not only to the front baffle of the enclosure, but also to the rear of the enclosure.  You can do this by running that hex head screw through the back of the enclosure, into the back of the subwoofer motor.  This will mechanically lock everything into place much more rigidly without it.  You see, special and unique.  
The SUMMO84S shares vital performance parts from the SUMMOXL line, such as the Kevlar Fiber enhanced non-pressed paper cone and OFC direct leads.  In addition, a 4-layer, high temperature voice coil, fiberglass woven dust cap, a high roll surround, and triple black poly cotton spiders with a mirror image layout.  All of the DNA from the SUMMOXL line, mixed with the innovative motor design, adds up to a very strong approach to a compact and shallow mount subwoofer that can keep up with the big boys.
Enclosure suggestions:
Sealed

: 1.1 cubes after displacement (0.03)

Ported

: 1.25  cubes after displacement, @ 38hz, 18 square inches of port area
Shallow Mount Design via Sealed Backplate & Customized Vented Cast Basket
Bolt-To-Box Machined Hex Screw on Magnet Backplate for Maximized Bass via Reduced Box Flexing
Optimized Spider & High Rolled Edge for Superior Bass Reproduction
Kevlar Fiber Enhanced Non-Pressed Paper Cone
4-Layer Hi-Temp Voice Coil
Fiberglass Woven Dust Cap
Double Stacked 66oz High Energy Strontium Ferrite Magnets
Enhanced Cooling T-yoke Design with Black Anodized Finish
Customized Rubber Gasket and Magnet Boot
100% Pure Copper Cables with Direct Lead Connection
Triple Black Poly Cotton Spiders with Mirror Image Layout


| | |
| --- | --- |
| Size | 8" |
| Peak Watts | 800 |
| RMS Watts | 400 |
| Cone | Non-Pressed Paper |
| Voice Coil | Dual 4 Ohm |
| Surround | Red Stitching |
| Magnet | 66oz Double Stacked |
| Terminals | Heavy Duty Direct Input Wires Connection |
| Basket | Rugged Industrial Textured Cast  |
| Tinsel Leads | Heavy Duty Triple |
| X-Max  | 9mm |
| SPL | 86dB |
| Ported Box | 1.097 ft3 |
| Sealed Box | 16.5" x 9.6" x 10.6" |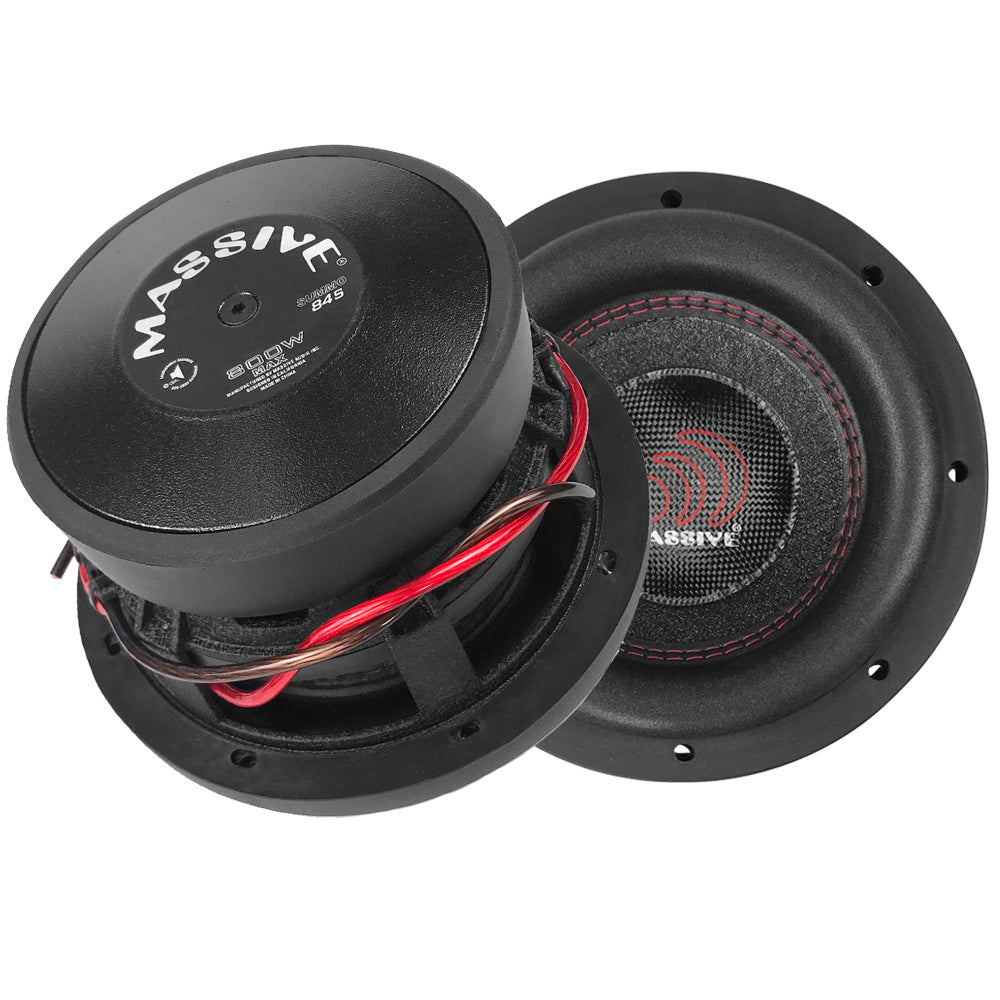 This product has no reviews yet.