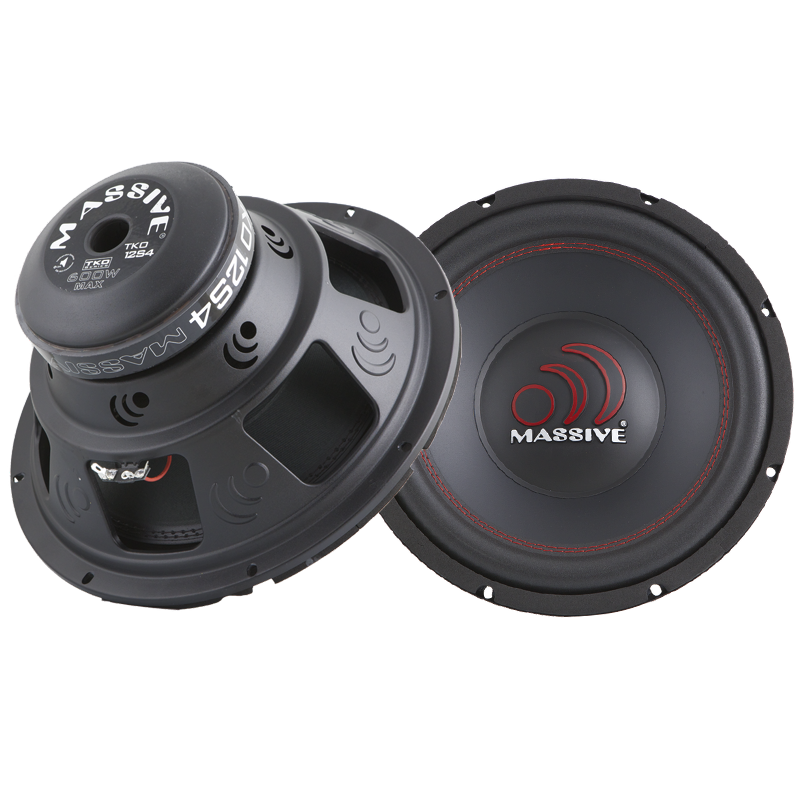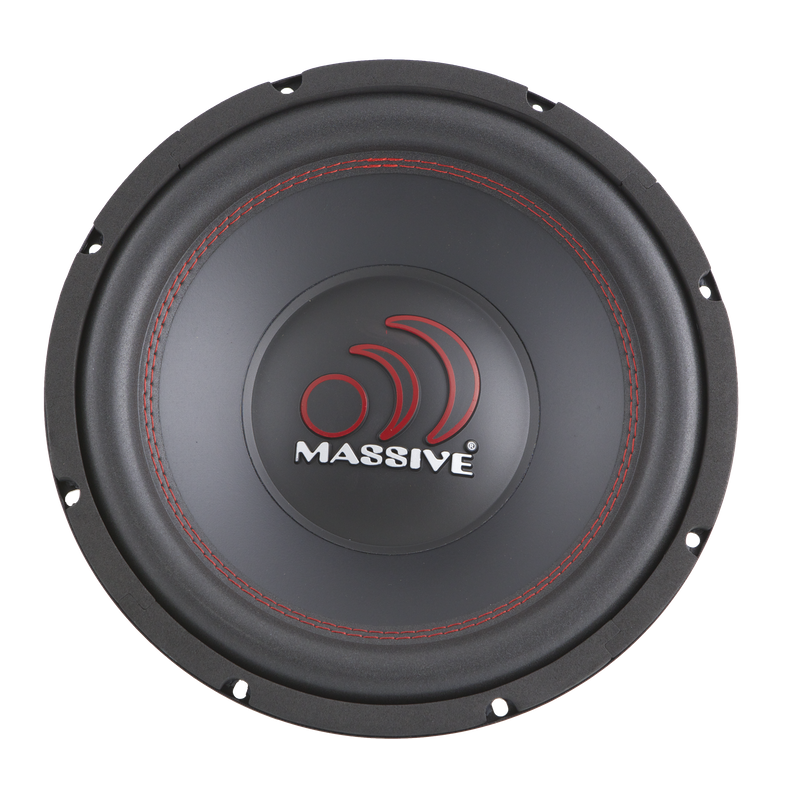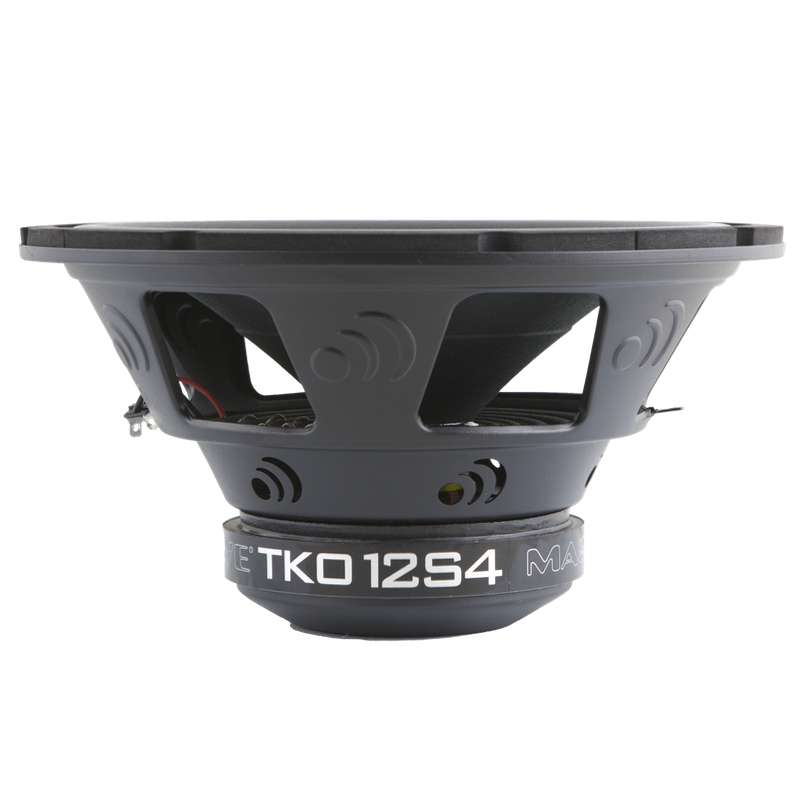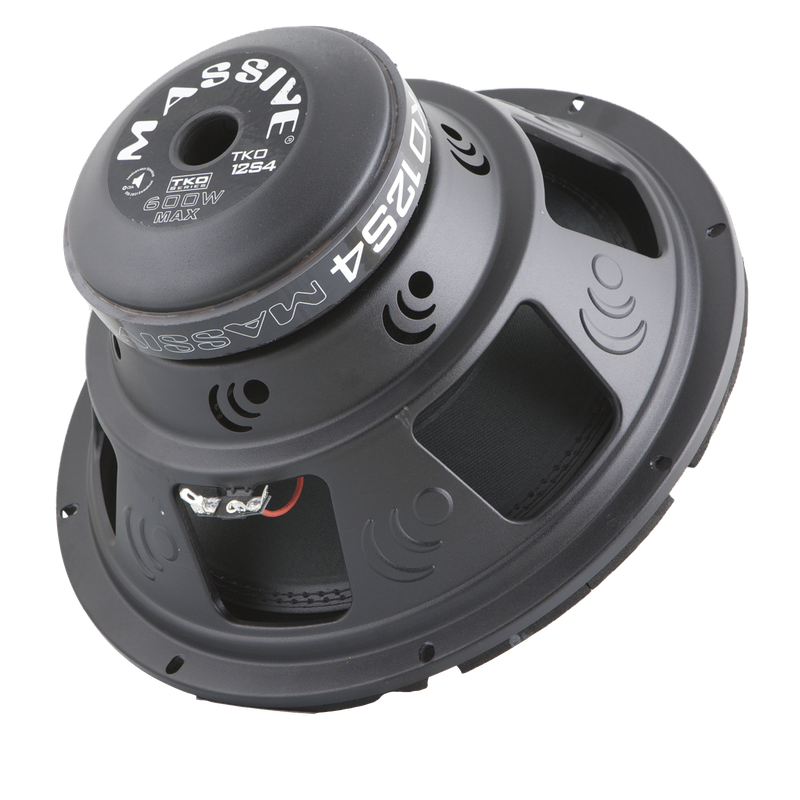 SKU: TKO12S4
TKO12S4 - 12" 300 Watts RMS Single 4 Ohm Subwoofer
DESCRIPTION

Manuals & Downloads

FEATURES

SPECIFICATIONS

SHIPPING & RETURNS
SOLD AS EACH
Bass can be an emotional connection to the music.  But, you want to make a logical choice when it comes to subwoofers.  Above a starter sub, while not needing gobs of power, our Massive Audio TKO124/12S4 slots right in perfectly.  A proven design that for years, has provided many installs with deep bass that really brings out the entire song.  At the same time, bringing great value to all of those people wanting great performance from the low notes.  The TKO Series plugs into our line up between the value ECO series and the all around killer MMA series. Sharing a nice balance of design and traits between the two, creating an outstanding result in the TKO124/12S4.

Stepping up to 300 watts rms, the TKO124/12S4 can handle some power if that is what your install requires.  While at the same time, it does not need a nuclear reactor to perform for you.  The TKO124/12S4 has been a long running favorite subwoofer choice for higher quality installs on a budget.  Efficient design and box needs, the TKO124/12S4 can save you money and space, while not sacrificing the bass.  Clean bass notes, very modest power needs, and very affordable pricing, all in the same package.
Picking up the TKO124/12S4 initially, it feels like it costs a lot more than what it does.  Crisp sounding bass notes from the TKO124/12S4 make it a go-to for people who really care about the bass as much as they care about saving money.  
We gave the TKO124/12S4 a laminated paper cone, for not just smooth looks, but very accurate sound all the way down into the 35hz region.  The standard red stitching through the cone into the surround gives the TKO124/12S4 a strong connection of cone and surround, with a sweet appearance.  Speaking of looks, the custom stamped, with side venting, basket really gives the TKO124/12S4 a nice touch.  Using an EISV voice coil, wrapped on an aluminum former, inside a stout motor, will keep the notes accurate so that you will always hear those lows of your favorite music.  Woven leads into the poly cotton spider, make sure you have no mechanical noise to affect your music.
Our TKO124/12S4 has shown to be a fantastic choice in the bass world where value and performance matter.  We wanted the TKO124/12S4 to be the simple pick into MASSIVE bass for an affordable price, and that's exactly what we achieved .
Enclosure suggestions:
Sealed

: 1.25 cubes after displacement (0.078)

Ported

: 1.75  cubes after displacement, @ 36hz, 26 square inches of port area
Heavy Gauge Steel Basket with Industrial Texture Painting
High Flux Y30 Strontium Ferrite Magnet
High Impedance Aluminum Former with EISV Voice Coil
Poly Cotton Spider with Woven Round Tinsel Leads
Laminated Paper Cone with Pressed Foam Surround
Round Shape PP Vacuum Dust Cap
8mm Top Plate
| | |
| --- | --- |
| Size | 12" |
| Peak Watts | 600 |
| RMS Watts | 300 |
| Cone | Laminated Paper |
| Voice Coil | High Impedance Aluminum Former with EISV |
| Surround | Pressed Foam |
| Magnet | High Flux Y30 Strontium Ferrite |
| Basket | Heavy Gauge Steel |
| Tinsel Leads | Poly Cotton Spider |
| X-Max | 7mm |
| SPL | 89.6 dB |
| Ported Box | 14" H X 18" D x 14" W |
| Sealed Box | 1.25 ft3 |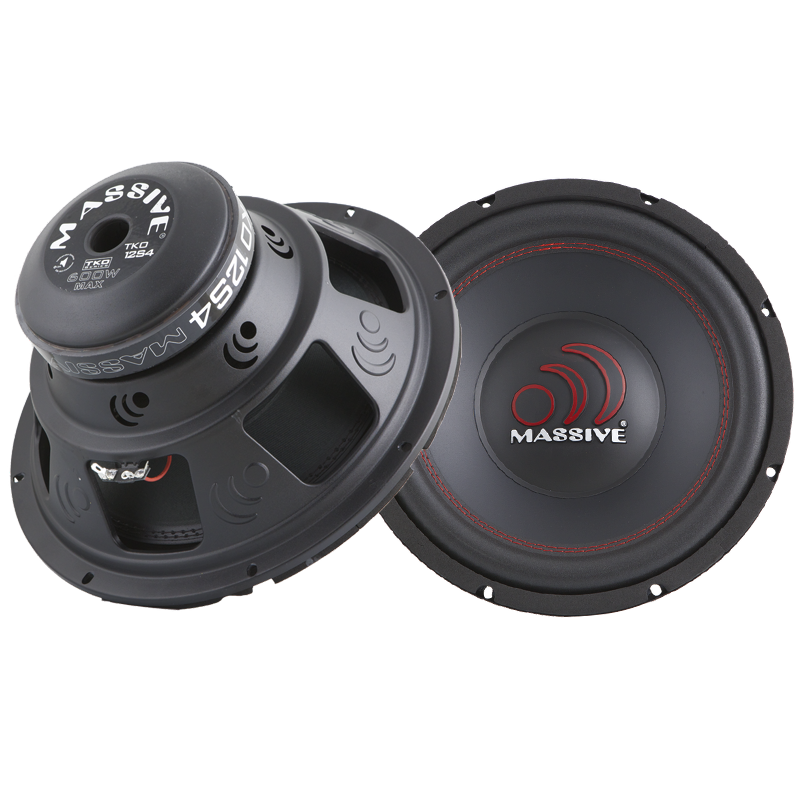 This product has no reviews yet.