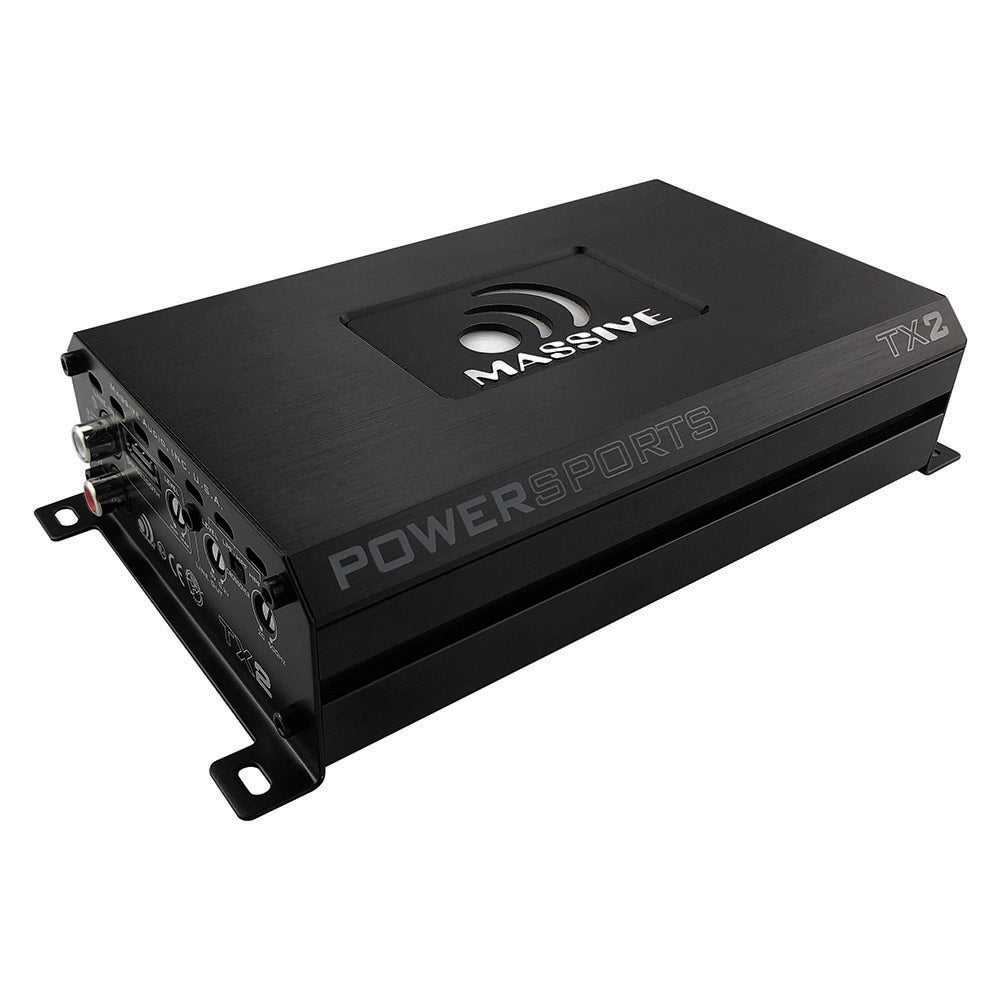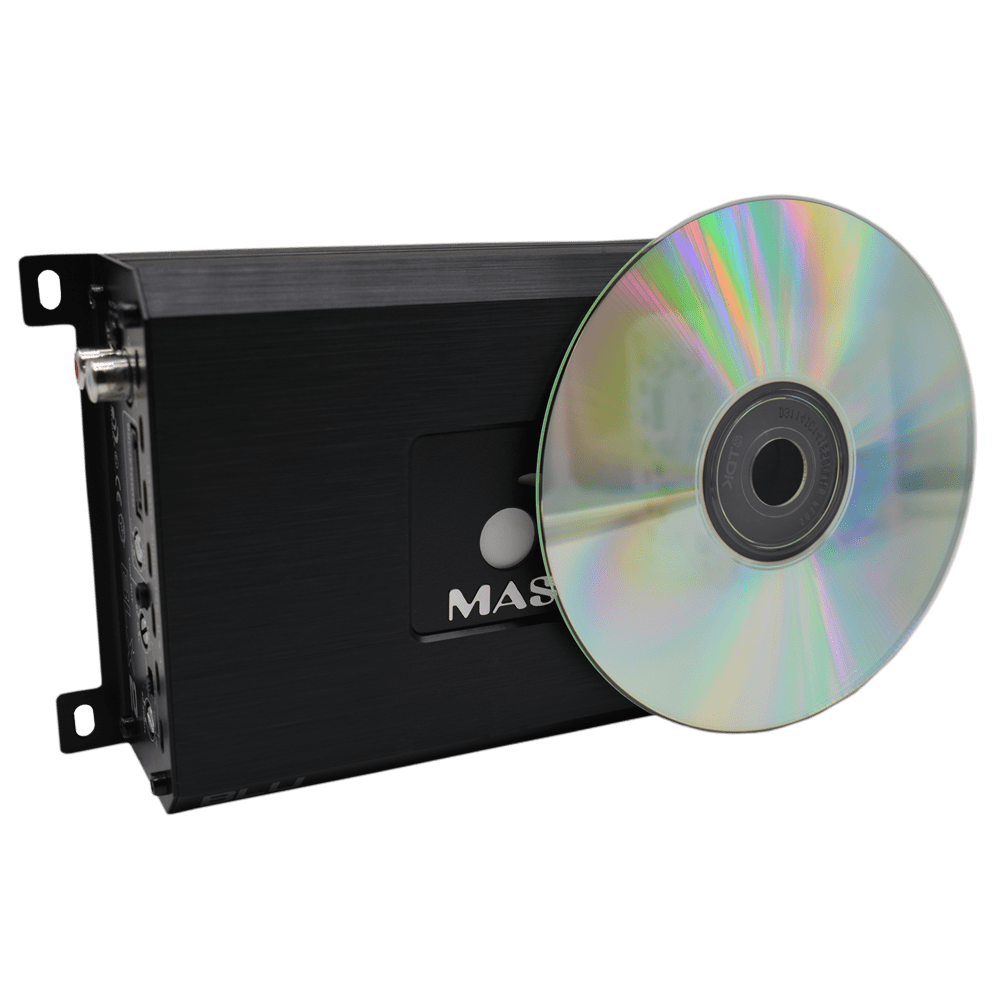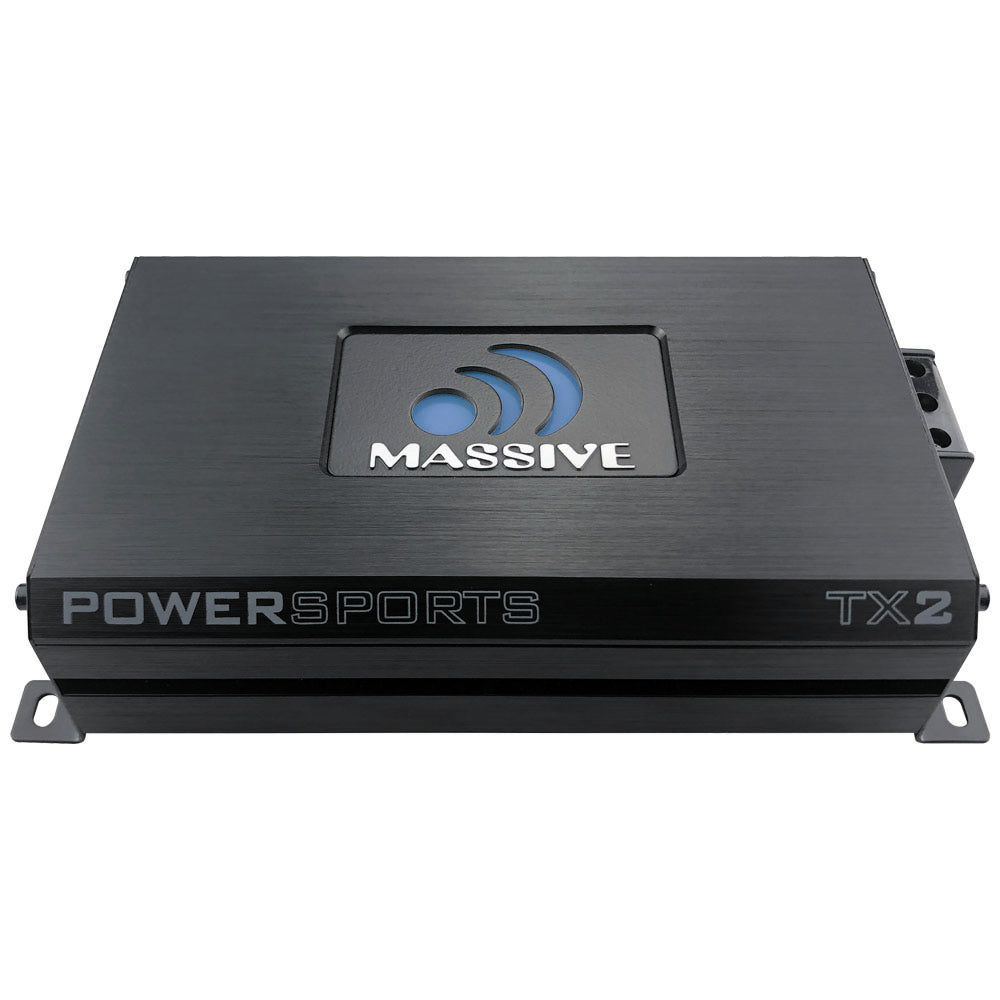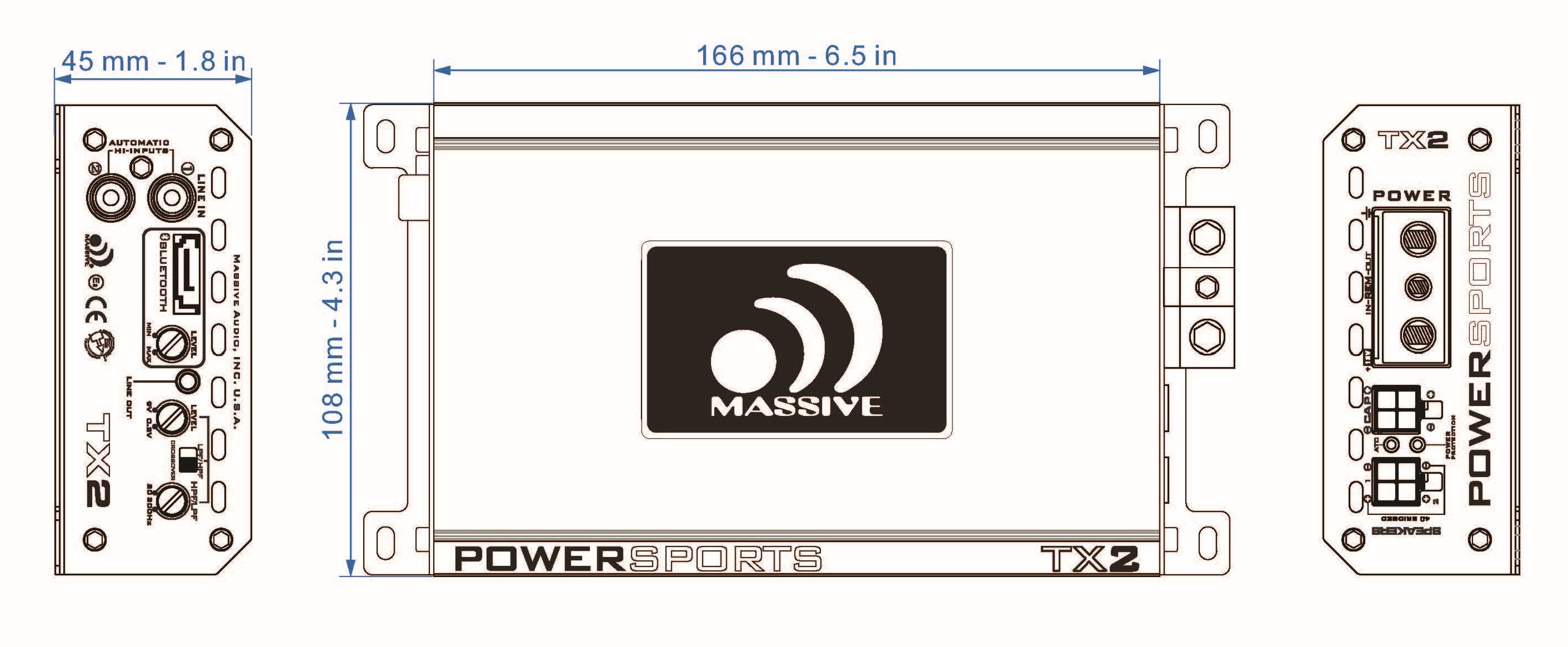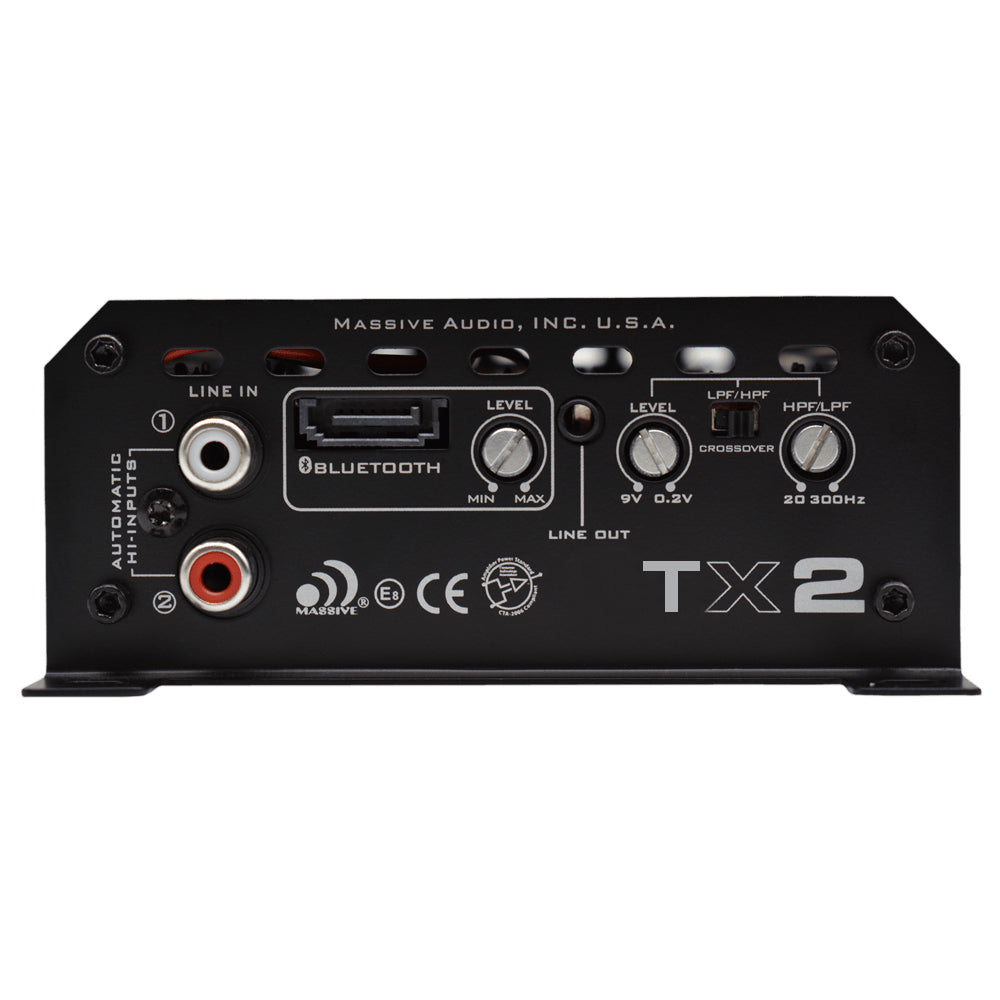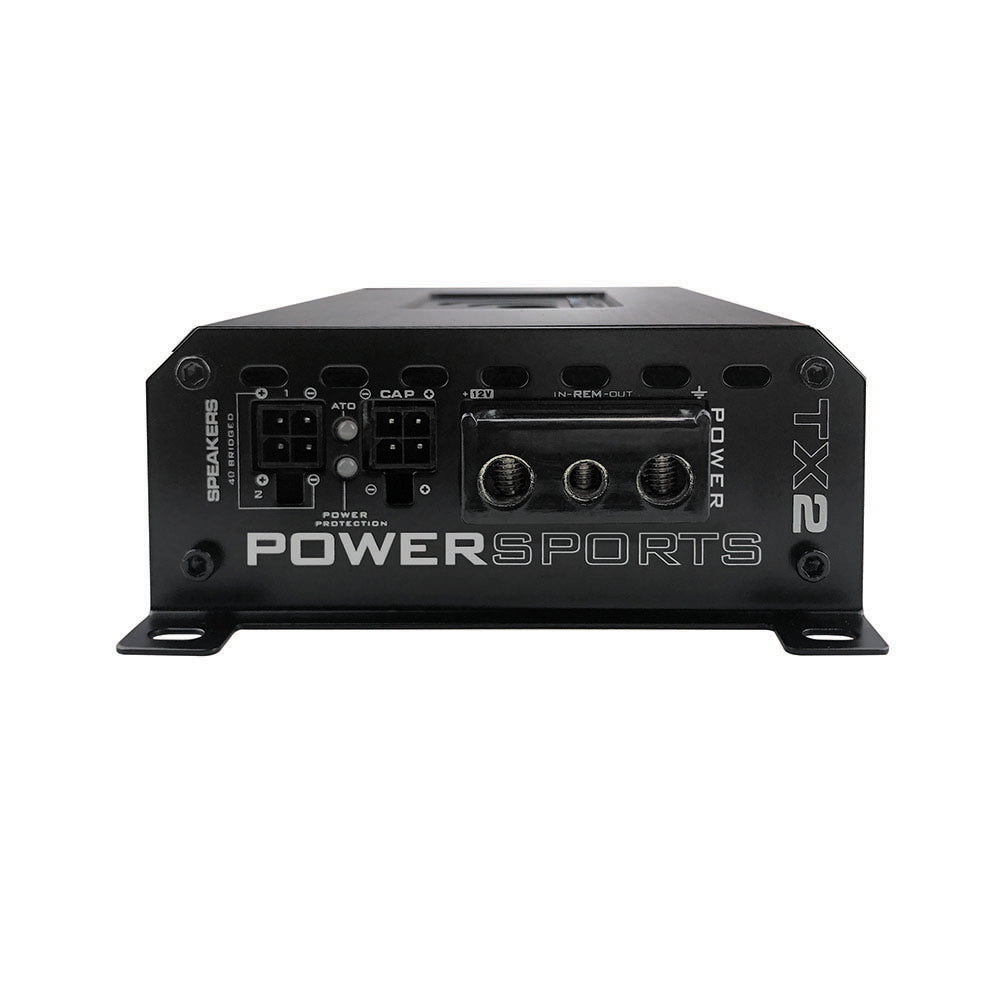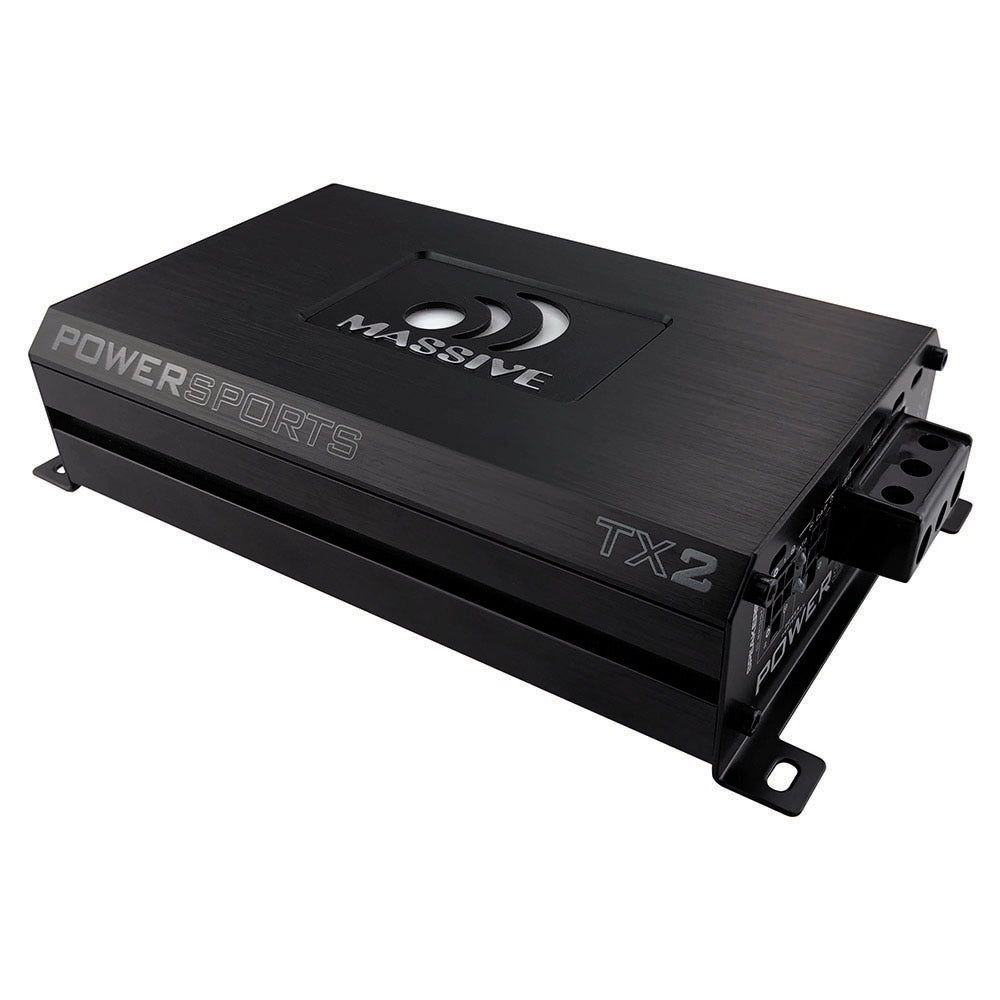 SKU: TX2
TX2 - 120 Watts X 2 RMS @ 4 Ohm Full Range Bluetooth Marine Amplifier
DESCRIPTION

Manuals & Downloads

FEATURES

SPECIFICATIONS

SHIPPING & RETURNS
Massive Audio's TRIDENT Series Amplifiers come dressed for action in their black anodized brushed aluminum heat-sink, punctuated with stainless-steel end caps and a blue backlit logo. The two primary features of this Amplifier are its IP65 Certified resistance to Water and its unique Bluetooth capability. Resistance to Water and Harsh Elements make it perfect for Marine Audio system applications and is a result of our utilizing a Dura-Coated 320°F Epoxy PCB and use of nickel plated RCA inputs.
The Bluetooth capability enables direct streaming of audio from Smart Devices with use of our optional UBT1 Dongle, eliminating the need for Car Play or Android Auto Head Units. The TX2 retains the small footprint of other Trident Series Amplifiers with dimensions of 1.6"H x 4.25"W x 7.8"L making it both Powerful and diminutive.
The TX2 is rated at 480 x 1 Watts RMS in Bridged Mode or 120 Watts X 2 @ 4Ω Stereo. Inside you will find our 4 Layer PCB of Class D design including Surface Mounted parts and Like all Massive Audio Amplifiers, you'll find our advanced 5 Way Protection Circuitry and a full array of adjustments to adapt to any system configuration including Full Range Line Output for Monoblock Linking. Another example is the flexible LPF/HPF/FULL Crossover Switching choices.
Each model supports a "Docking Port" to plug in an optional custom matching Railcap Booster (RCLX) or (RCT).


Extreme Power in a Mini Compact Footprint
Conformal Dura-Coated 320°F Epoxy PC Boards to resist Moisture, Dust and Extreme Heat
Full Range Digital Design
4 Layers PCB design with SMD parts
Built-in Noise Reduction Circuitry
Full MOSFET with High Grade Switching Devices
Bluetooth Audio Streaming with optional UBT1 Dongle
Built-in Auto Sensing Turn On Function (Hi-Inputs)
12V Remote Output for External Devices (Hi-Inputs)
Advanced 5 Way Protection Circuitry
RCLX ~ Railcap Booster (Optional)
World Wide Standards Compliant (RoHS, E-Mark, CTA-2006, CE)
| | |
| --- | --- |
| Peak Output Power @ 14.4V | 480W x 1 Max |
| 1 Ohm RMS | n/a |
| 2 Ohm RMS | 240W x 2 |
| 4 Ohm RMS | 120W x 2 |
| 4 Ohm Bridged | 480W x 1 |
| Input Level | 0.2~9.0v |
| Freq. Response | 10Hz~25KHz |
| THD at 4 Ohm Load 30% Rated Power | <0.03% |
| S/N Ratio | >110dB |
| Bass Boost | N/A |
| Minimum Load | 2 Ohm Stereo |
| Gain Remote | n/a |
| Dimensions | 1.6"H x 4.25"W x 7.80"L |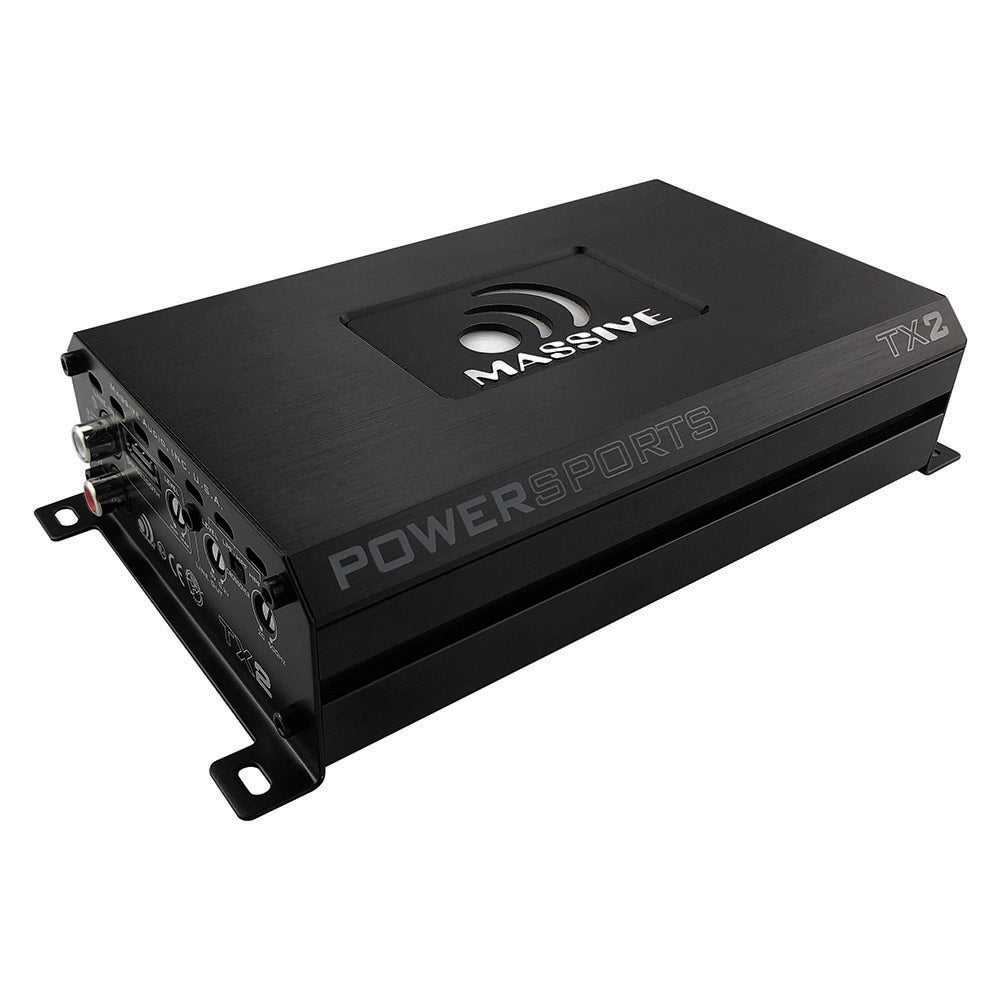 This product has no reviews yet.