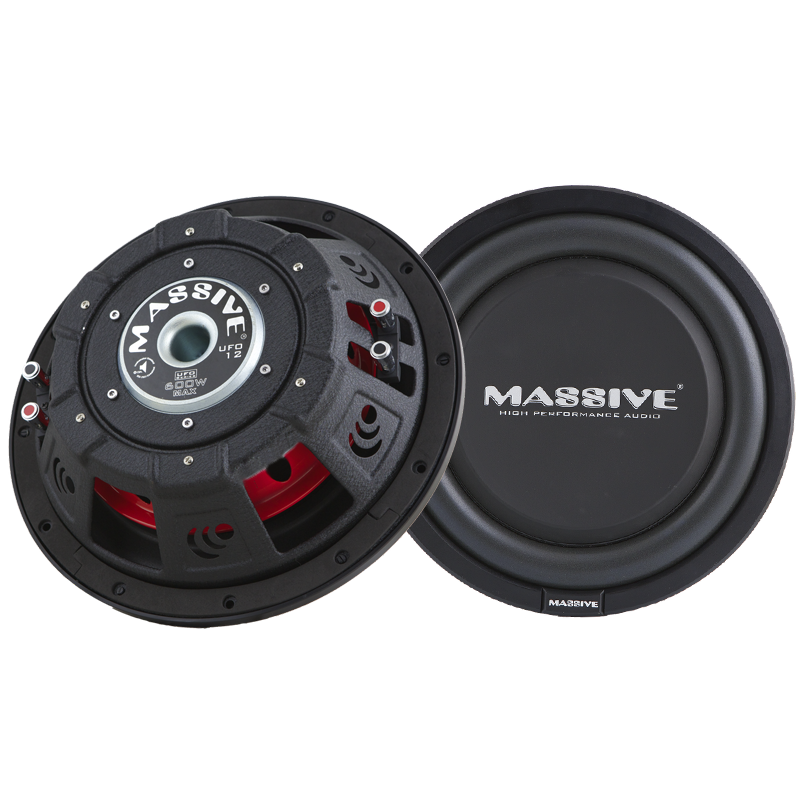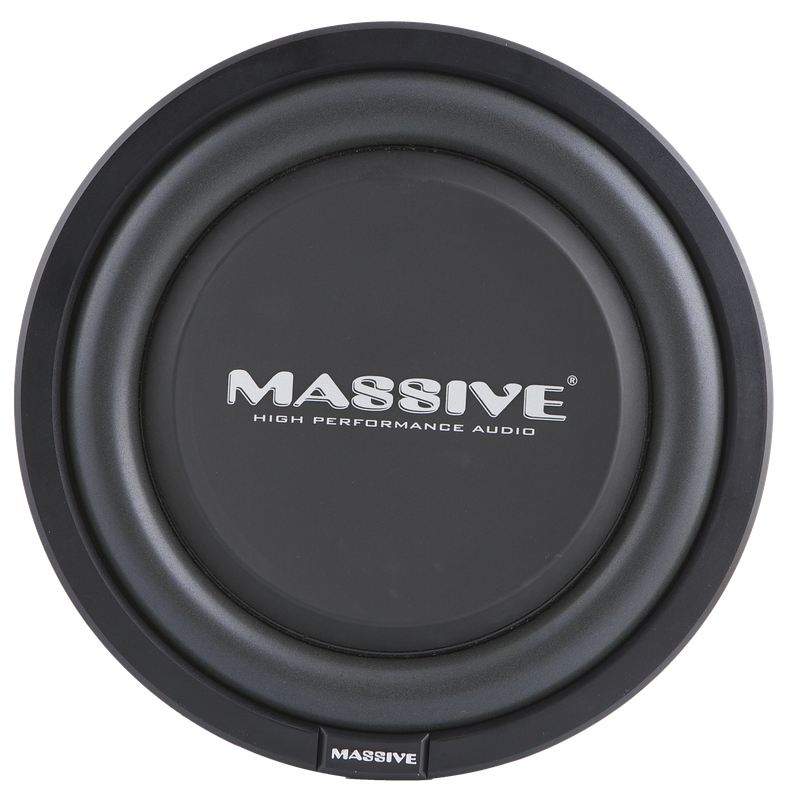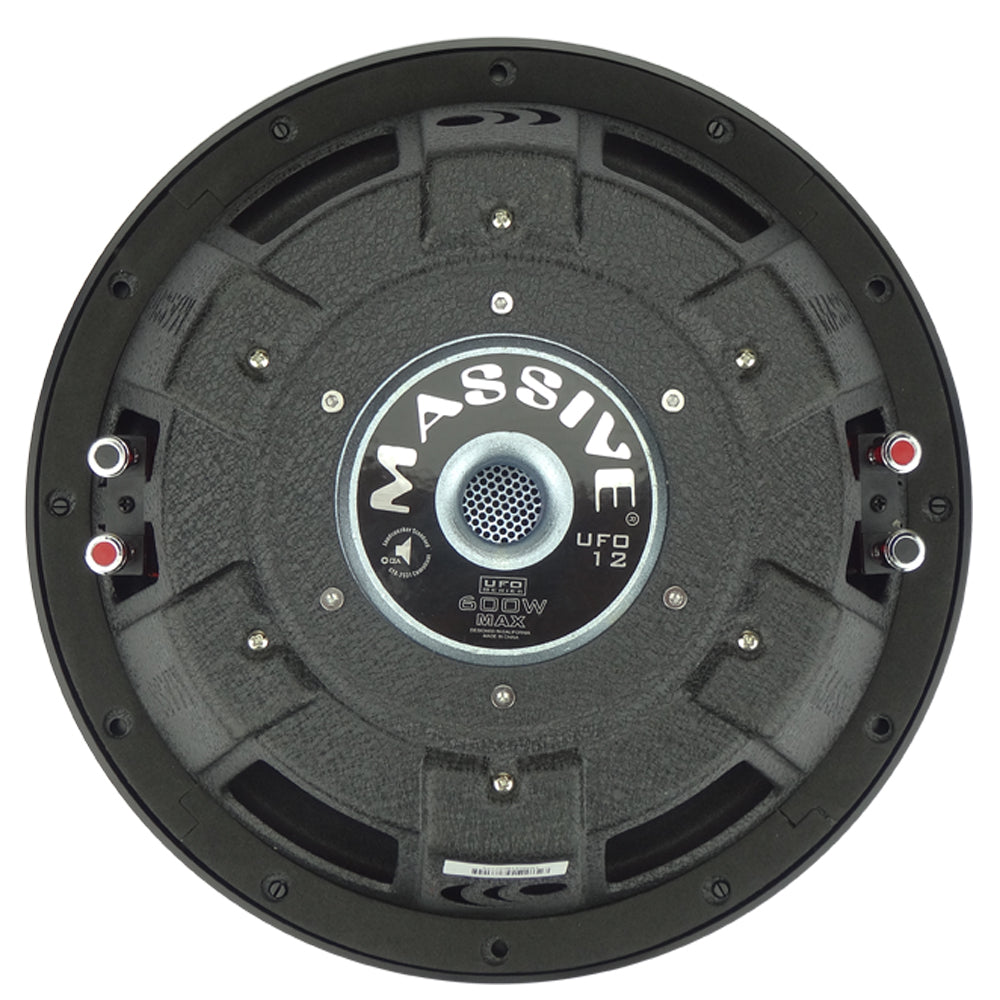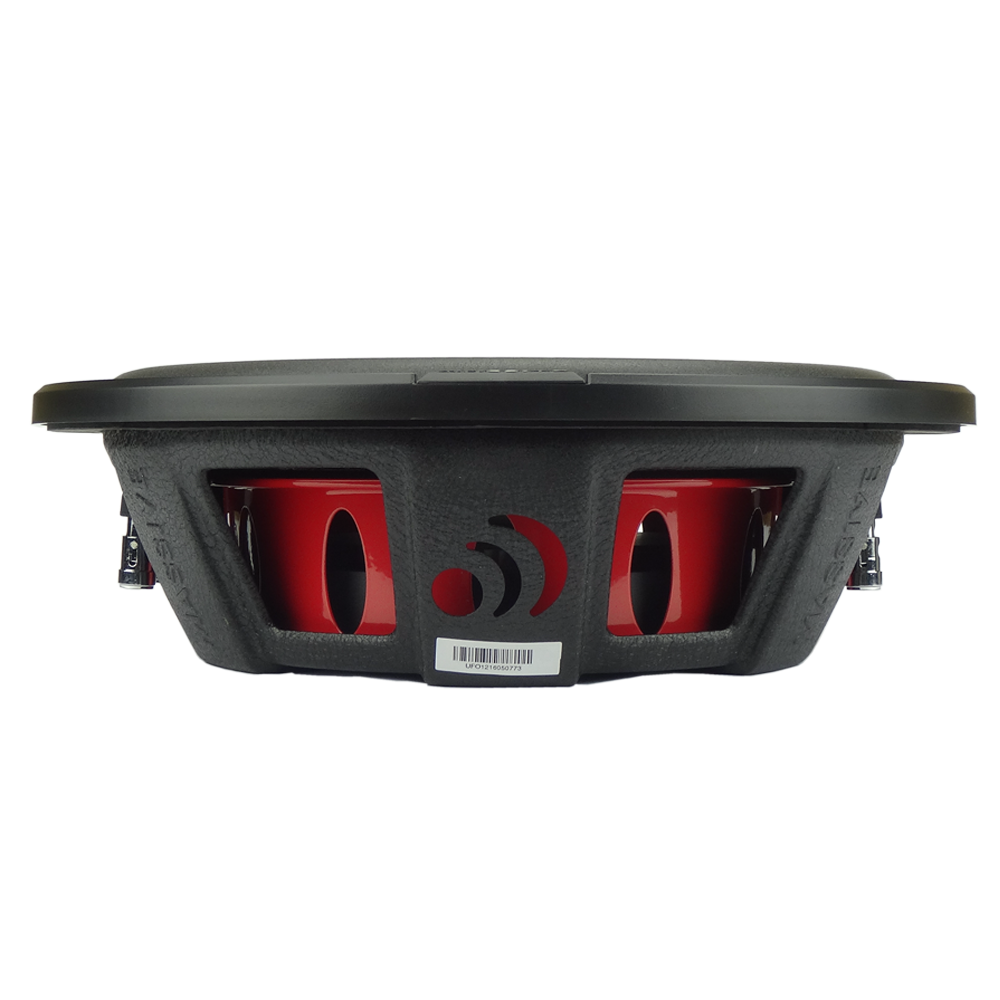 SKU: UFO12
UFO12 - 12" 300 Watts RMS Dual 4 Ohm Slim Subwoofer
DESCRIPTION

Enclosure suggestions

FEATURES

Manuals & Downloads

SPECIFICATIONS

SHIPPING & RETURNS
SOLD AS EACH
In the space of shallow mount subwoofers, only a few are capable of actually producing quality, deep bass.  The Massive Audio UFO12 is a stellar shallow mount option on the market today.  That is quite a statement, so let's break it down as to why.  Shallow mount subs are here to solve the problem of limited mounting depth or space for a subwoofer.  Our UFO12 is designed to perform very similarly to a standard 12" subwoofer, but with half the mounting depth requirement, and that is exactly what we were able to do.  
Now, how did we do it?  First, we moved to a flat cone for the UFO12.  The flat cone style gains some depth behind the cone, inside the basket itself.  Next we upgraded the strength of the magnets to a high flux Y30 strontium magnet.  That allowed us to reduce the width of the motor, therefore we were able to invert the smaller motor into the area inside the basket that is no longer taken up by a deep cone.  All of that work produced a mounting depth reduction down to only 3.1" total.  This all means, you can fit a great sub in that tight space now, you can still get great bass out of it too.
The UFO12 is a must have for under the rear seat, or behind seat  boxes for pickup trucks.  To produce the same great bass that the renowned TKO series does, we used a very similar 2.5" EISV aluminum voice coil, and gave it loads of venting, through the basket and through the pole, to keep cool under hard bass notes.  We also brought over similar cotton progressive spiders with woven leads to keep the cone under control and no mechanical noise.   
With an rms power handling of 300 watts and 8mm of Xmax, the Massive Audio UFO12 really sets itself at the top of the shallow mount subwoofer market.  We do our best to develop a great subwoofer for all types of needs and budgets.  The UFO12 is not just a great performer in a small space, it is also a killer value too.  You will be hard pressed to find a quality comparable sub in this price bracket.  The Massive Audio UFO12 will not only save you space, but it will save you money, while having that peace of mind in owning a great Massive Audio subwoofer, you could even say the UFO12 is out of this world. 
Sealed

: 0.85 cubes after displacement (0.06)

Ported

: 1.2  cubes after displacement, @ 38hz, 18 square inches of port area
Heavy Gauge Steel Basket With Industrial Textured Paining
High Flux Y30 Strontium Ferrite Magnet
High Impedance Aluminum 3" EISV Voice Coil
Poly Cotton Spider With Woven Round Tinsel Leads
Injection PP Cone With Pressed Foam Surround
Shallow Design for Architecture and Automotive
| | |
| --- | --- |
| Size | 12" |
| Peak Watts | 600 |
| RMS Watts | 300 |
| Cone | PP Injection |
| Voice Coil | 3" Dual 4 Ohm |
| Surround | Pressed Foam |
| Magnet | High Flux Y30 Strontium |
| Terminals | 5 Way Binding Push |
| Basket | Heavy Gauge Steel |
| Tinsel Leads | Poly Cotton Spider With Woven Round |
| X-Max | 8mm |
| SPL | 88dB |
| Ported Box | 14"H x 15"D x 12"W (Round Port 4" x 12") |
| Sealed Box | 1.0 ft3 |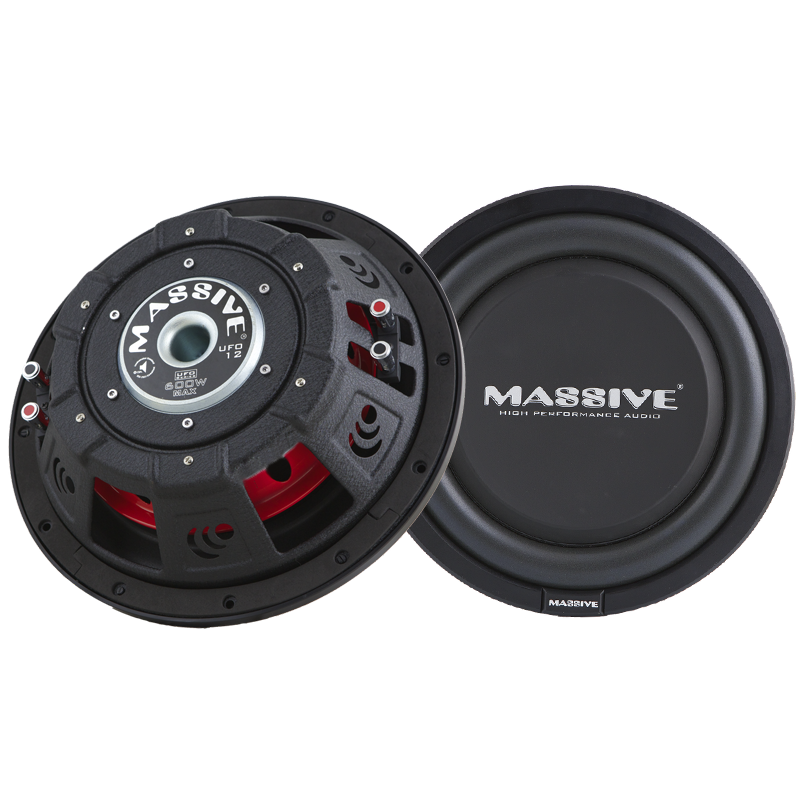 This product has no reviews yet.